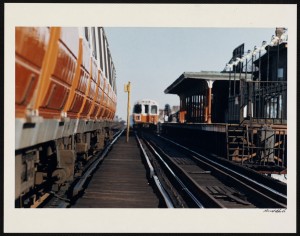 David Akiba, a local photographer and teacher, passed away on August 24, 2019.  The Boston Globe published a front page appreciation of his work and career on October 6.  After reading it, I, like many, felt the loss of an uncommon talent.  We at Digital Commonwealth are very proud that we host over 100 of Mr. Akiba's photographs.  The Globe quoted Mr. Akiba saying he "…liked the railroad yards…" and spent time in "…half-destroyed urban parts of town…"
These interests and his role as mentor are represented by his participation in the Along the Elevated: Photographs of the Orange Line exhibit at the Boston Public Library (and now on Digital Commonwealth), which paired professional photographers with students.  Each pair was given the assignment to chronicle the elevated Orange Line public transit just before it was demolished.
If you spent any time riding the elevated Orange Line or living under it, you'll want to take a look at what David Akiba captured with empathy and art.