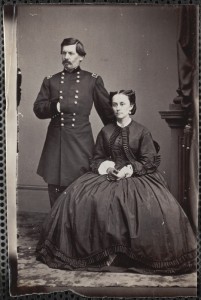 Digital archives thrive on collaboration and the Medford Historical Society's Civil War Photo Collection  bears that out in  an especially meaningful and inspiring way. This massive collection of more than 3600 well preserved albumen prints was amassed by General Samuel Crocker Lawrence who commanded the Lawrence Light Guard during the Civil War. He went on to serve as Medford's first mayor.
A feature article in Tufts Now traces how these prints were discovered on a second floor of the Medford Historical Society Museum in 1990 and came to be given very special care from the society, Civil War scholars, then Tufts Digital Collections and Archives, the New England Document Conservation Center (NEDCC) and the Digital Lab at the Boston Public Library.
The range of images includes portraits of military officers and their wives, camp scenes, battlefields, cannons, cities in ruin and more. The work of notable Civil War photographers George Bernard and Andrew Russell and those who studied under Matthew Brady (the seminal Civil War photographer) are included in the archive. Not surprisingly, some are untitled and dated simply 1861-1865.  The collection is a valuable tool for researchers, students, teachers and history aficionados.