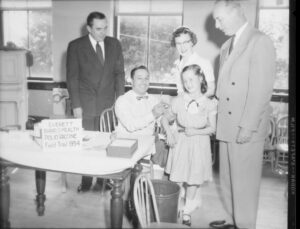 In the last blog post, we mentioned that with more people being vaccinated, crowds would once again be gathering. Not so fast, said COVID.
As we enter our third pandemic year now with the fierce Omicron variant infecting even fully vaxxed individuals, we need to re-adjust our activities once again. Additional booster shots will probably become the norm in the months and years to come. More vaccine drives and clinics will be held. Our featured image at left shows an Everett Public School student begin vaccinated against polio in 1954.
In 2021, changes at Digital Commonwealth have also been in the works. New collections have been on pause while conversion to an enhanced storage platform is in process. As Digital Commonwealth nears the 1 million item mark, this upgrade is essential.
Our longtime Membership  & Conference Manager Glynda Benham has retired and new Operations Manager Anne Callahan has joined Digital Commonwealth. Thanks, Glynda for your expertise and fantastic management of both in-person and virtual annual conferences. Enjoy your well deserved retirement! Welcome, Anne!
This blog welcomes a new contributor, Barbara Schneider of the Massachusetts Trial Court Law Libraries. Barbara retired from full-time work but continues at the Law Libraries on a per diem basis. Barbara currently serves on the Outreach and Education Committee. She's got some intriguing posts planned in the next several weeks. Welcome, Barbara! Have fun exploring Digital Commonwealth.
As for me, I'm stepping away from the blog but will remain on the Outreach and Education Committee, chaired by colleagues Andrew Begley and Matt Amory. I'll continue to post on social media, finding and sharing hidden gems within the treasure chest that is Digital Commonwealth.
Anne Berard, Member Outreach & Education Committee
Reference & Outreach Librarian, Milford Town Library