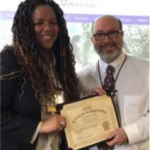 The Digital Commonwealth awarded free attendance to the annual conference this year to student, Maxwell Lisanti.  We are happy to present Maxwell's report on the conference today.
My Takeaway from the 2019 Digital Commonwealth Conference
By Maxwell Lisanti, MLIS Candidate '19, Simmons University
I am weeks away from finishing my MLIS degree and Archives Management concentration at Simmons University, and it was not until this 2019 Digital Commonwealth conference that I had had the opportunity to attend a professional conference. Not sure what to expect beyond speakers and name tags, I entered with an open mind.
Two presentations in particular stood out to me, as they followed similar currents of race, access, and archives. First, Eben English's Luncheon Keynote Address, "Digital Commonwealth Repository Systems Update: Wooden Anniversary." I have accessed Digital Commonwealth's digital collections frequently in both academic and casual settings, and was interested to see how the collection had grown, and how it was accessed and used by patrons. What truly struck me was when Eben cycled through the top 20 most accessed items from the whole year (excluding the viral M.C. Escher collection). Most were innocuous – state maps, pictures from the molasses disaster, political cartoons – but there were two that stood out. At number nine on the list was a Ku Klux Klan application form from UMass Amherst's W.E.B. Du Bois Papers. This sent a bit of a shiver throughout the room, and we whispered amongst ourselves, hoping to justify a reason for its popularity; surely it was academic or purely casual curiosity? The uncertainty behind the numbers was alarming, and Eben expressed about the same opinion.
The fourth item on the list, with 1,018 views, was a photo of a lynching in California from the Leslie Jones Collection at the Boston Public Library. Going off of the presence of this disturbing image (which was thankfully fully censored), Eben discussed the responsibility that we have as information professionals to provide users with context (this is something that I wrote in my notes repeatedly) for images like the Lynching Photo.  A lack of context can turn people into "objects, rather than subjects." Are we, as a majority white profession, reproducing inequality by acting as the stewards of these images? There is no way to determine who accessed an image and why; as we whispered about before, these reasons could be purely academic. But the risk that these images are being misused, or that a lack of context is encouraging that misuse, is and should be alarming. The solution to this issue, or one of many, is greater collaboration between libraries/archives and the communities that are represented in their collections.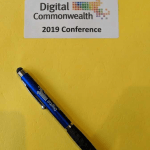 I found that this theme was again repeated in Whitney Battle-Baptiste's brilliant presentation, "Visualizing W.E.B. Du Bois: Bringing Archive into the Digital Age." A large portion of Whitney's work focuses on bringing young black middle and high school students into the W.E.B. Du Bois Archives at UMass and allowing them to interact with history that is rightfully "theirs". Simply interacting with the items at the archive was enough to get many repeat visits from the students, and spark an interest in history, specifically black history. Whitney pointed out, quite correctly, that much of the representation of black people and black bodies in archival collections is through the lens of slavery and racist violence; images of slaves, slave rosters, lynchings such as the one shown in the Digital Commonwealth collections. Whitney spoke of the inherent trauma of accessing these violent and disturbing images as a black person, and how we as archival professionals need to be conscious of the material we have in our collections and, as Eben said, the context in which that material exists. Whitney encouraged us as information professionals to "be in dialogue" with the communities represented in our collections, and receptive to what these communities tell us.
Digitization has opened up the collections of many archives and libraries to the larger general public, and these two presentations energized me to continue to work towards using digitization as a tool to connect with marginalized communities and to create collections that are inclusive of new and necessary viewpoints.