Have you kept your New Year's resolution to digitize your historical treasures? These institutions did.  Anna Maria College's The Travel Postcards of Charles Bumsack Collection includes this view of Smith College's Observatory (left).  If you explore more, you'll also find views of the Crab, Dumbbell and Horsehead Nebulae.  I kid you not.
If whimsy is not your cup of tea, the BPL has added some significant correspondence collections and Barre Historical Society has added maps. (See example below.)  Wilbraham Public Library chips in some photographs of the Glendale section of town while the Center for the History of Medicine (Francis A. Countway Library of Medicine) has added prints, sculptures, photos and more in its six collections.
Earlier this month Punxsutawney Phil saw his shadow, so we have six more weeks of winter. Plenty of time to visit all these great collections.
Anna Maria College
Travel Postcards of Charles Blumsack – 120 items
Barre Historical Society
Barre Historical Society Map Collection – 11 items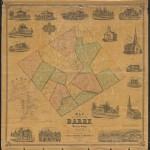 Boston Public Library
Alphonse Legros (1837-1911). Prints and Drawings – 1943 items added to existing collection John Brown: Correspondence relating to John Brown and the raid on Harpers Ferry, West Virginia – 227 items
Sophia Hawthorne correspondence with James and Annie Fields, 1851-1904 – 252 items
Center for the History of Medicine (Francis A. Countway Library of Medicine)
Harvested 6 collections – 3623 items
Wilbraham Public Library
Glendale Collection – 44 items