By Jodi Goodman, Head of Special Collections
New Bedford Free Public Library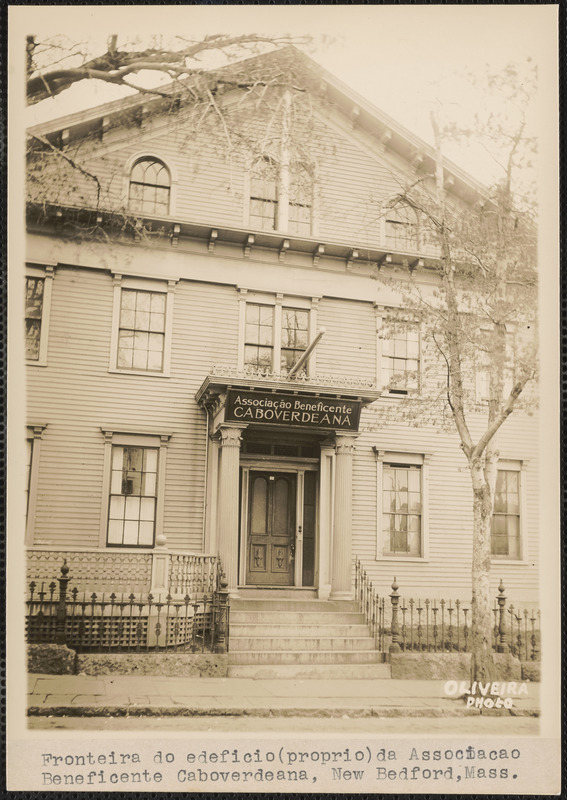 This photo of the Cape Verdean Beneficent Association, New Bedford, is in the recently added Oliveira Photograph Collection (New Bedford Free Public Library), which highlights New Bedford's Portuguese community in the early twentieth century.
Established in 1916, the Cape Verdean Beneficent Association (Associação Beneficente Caboverdeana) in New Bedford, Massachusetts is the oldest Cape Verdean organization in the United States.  It emerged to support members with companionship and emergency financial assistance.
Cape Verdeans, an Afro-Portuguese immigrant community, came to New Bedford in the 19th century aboard whaling vessels which made regular stops at the Cape Verde islands for supplies.  The largest concentration of Cape Verdeans arrived between the 1880s and 1920s.  Entrepreneurial in spirit, Cape Verdeans found work in the packet trade.  Some bought old sailing vessels and outfitted them as packet boats, sailing to the Cape Verde islands with supplies and returning to New Bedford with new immigrants.  In New Bedford, Cape Verdeans worked as longshoremen, fish processors, and merchant seamen.
The majority of Cape Verdeans in the United States have settled in Southeastern New England.  Many will be celebrating Cape Verdean Recognition Week in New Bedford from June 28-July 7, 2019, culminating in the Cape Verdean Recognition Parade July 7 at 11:00 am.