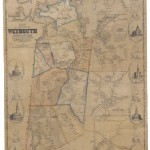 Digital Commonwealth partners Weymouth Public Library and Lee Library Association were in the news last month.
Wicked Local Weymouth in an article entitled, Weymouth Public Libraries announces programs, reports on the Weymouth Public Libraries adding more digitized items from the Weymouth Historic Collections to the Digital Commonwealth.  Highlights include more items concerning abolitionism and the Civil War, as well as maps of Weymouth dating from 1854 and 1880. The map from 1853 (left) is especially interesting because it marks the locations of houses with the names the residents. The items featured on Digital Commonwealth are a selection of the materials in the Weymouth Room and Local History Collections. Finding aids describing the contents of the collections in detail are viewable online here.  Original materials are viewable in person by appointment.  What's available on Digital Commonwealth is viewable anytime, anywhere you have Internet access.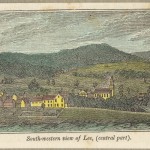 The Berkshire Eagle's article, Lee Library Association: A history lesson, just a click away, extols the Lee Library Association's efforts to identify, preserve and provide online access to its collection of photographs, postcards and prints.  Over 25 years ago, local volunteers organized and categorized the collection over 5 years.  When Mary Philpott, president of the Lee library, learned about Digital Commonwealth in 2013, she immediately signed up to begin what became a 4-year process of getting the collection digitized.  Digital Commonwealth staff really appreciated all the hard work done by the Lee volunteers.  The more data cultural institutions can supply, the faster Digital Commonwealth can process their collections.  For the Lee Library Association the reward was that their historical collections were no longer "sitting in boxes". Now everyone with an interest in Lee history can see them.