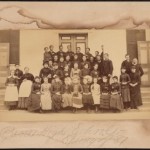 June is a traditional month for saying good bye to school friends and beginning on new and unknown paths. We are pleased to highlight this month's addition of Class Photos from Barre High School provided by the Barre Historical Society, including the 130-year-old photo to the right. The Boston Public Library continues to add to established collections, which may see more use during the school year when old school friends meet again.
June is also Pride Month and the Digital Transgender Archive has uploaded seventy-seven (yes, 77!) new collections.  I can't list them all, so follow the link and explore the various paths to a history that may be new and unknown to you.
Whatever path you choose, wherever you wind up,  may your journey begin with a visit to the Digital Commonwealth of Massachusetts.
Barre Historical Society
Barre Class Photos – 64 items
Boston Public Library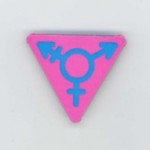 Anti-Slavery Collection -2,178 items added to existing collection
Norman B. Leventhal Map Center Collection – 10 items added to existing collection
Shakespeare Collection – 101 items added to existing collection
Digital Transgender Archive 
Seventy-seven collections – 1,587 items harvested