Written by Patricia Feeley, Interlibrary Loan Librarian, Boston Public Library
The handwritten caption on this photo states, "Taken Ropepull day Sept. 18, 1895".  I don't know if these mostly cheerful, mostly young men are rope pullers (tug of warriors?) or spectators.  The University of Massachusetts at Amherst simply calls it, "Rope pull, undated".
I was originally looking at the many photos of rope pulls/tugs of war (tug of wars?) in the Digital Commonwealth collection.  UMass/ Amherst, Springfield College and Clark University all contributed photos.  Concentrating on the variety at UMass/Amherst, you'll find photos showing teams already in the campus pond, digging in on the shore and gathered triumphantly wreathed in the hard-won rope.   But then I saw this one: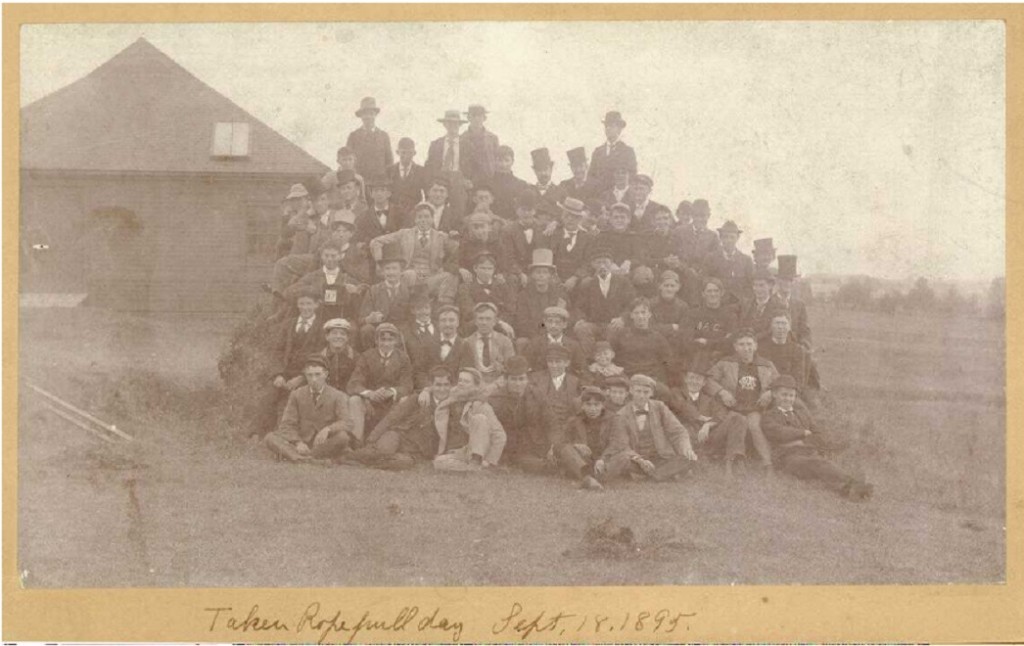 It shows us a near pyramid of men in a field.  Take a closer look. They are sitting on hay bales.  There is nothing other than the caption to indicate this is a team (or teams) of rope pullers or spectators.  What it does show is hats, hats and more hats.  There are top hats, stove pipe hats, bowlers, scally caps and hats I don't even have names for.  About the only style I can't find is the currently ubiquitous baseball cap.  The man without a hat is the exception.  A couple of especially dandy students even have walking sticks.
In the third row, far left, a young man holds a small flag with the number 97 on it.  I like to think he, if not most of this crowd, was from the Class of 1897.  One person who was not is in the second row, about 5 in from the right, wearing a Lord Fauntleroy collar.  I doubt he was on the rope pull that day.  Some college fashion, however, is timeless.  Look closely at the front, far right side.  You'll see a few students in school sweatshirts.  Back in the day, of course, UMass was Massachusetts Agricultural College, hence the MAC shirts.
So, if your favorite college student is constantly outfitted in baseball cap and sweatshirt, he (or she) is simply following a long tradition.  Take a photo of him and his friends – hay bales optional.  In 100 years, it may deserve a closer look.
If you have a favorite photo as deserving of A Closer Look as this merry bunch, please let us know.  Send your Closer Look or a link to your photo to outreach@digitalcommonwealth.org.