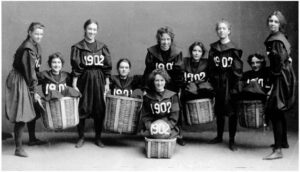 More than a century ago, the first women's collegiate basketball championship was played in Massachusetts between Smith College sophomores and freshman. "Smith March Madness 1892" is a 8:20 minute video about the game. Senda Berenson, known as the "Mother of Women's Basketball" and Director of Physical Training at Smith, introduced the game of basketball, developed by James Naismith the year before, to her Smith students. "Major newspapers and magazines in the Northeast covered the championship game, and reporters equated the popularity of the event to the Harvard Yale men's football game."
Senda Berenson wrote an article entitled "Basket Ball for Women" in the September 1894 issue of Physical Education, available courtesy of Springfield College, Babson Library, Archives and Special Collections.  She says, "The value of athletic sports for men is not questioned. It is a different matter, however, when we speak of athletics for women. Until very recent years, the so-called ideal woman was a small waisted, small footed, small brained damsel, who prided herself on her delicate health, who thought fainting interesting, and hysterics fascinating. Wider and more thorough knowledge has given us more wholesome and saner ideas."
Digital Commonwealth and other archives and libraries have helped to preserve and provide access to documents, images, and audio and video files related to women in sports. One example is the audio file for a lecture given at UMass in 1978 by Wilma Rudolph, bronze medalist in 1956 Olympics and three-time gold medalist in 1960. At the time of the lecture, she had just published her autobiography, Wilma, and hearing her story in her own voice is inspirational. In the audio file, she speaks of her upbringing as the 20th of 22 children in small-town Tennessee. As a child, the fastest woman in the world had survived pneumonia, scarlet fever, and polio, and wore a leg brace for much of her early life.
The challenges that Wilma Rudolph had to overcome were many. She graciously gave credit to the family members, friends, fellow athletes, and coaches who helped her along the way. As she tells her story, she says that there came a point when she had to have faith in herself in order to reach her full potential.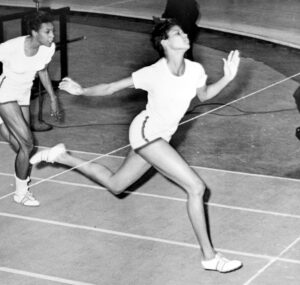 Wilma Rudolph was a world class athelete before Title IX was signed into law. She had to make her way on her own and with the support system that she was able to construct without the benefit of the law enshrining women's rights.
Title IX of the Education Amendments of 1972 ("Title IX"), signed into law on June 23, 1972, was designed to prohibit discrimination on the basis of sex in education programs and activities in all public and private elementary and secondary schools, school districts, colleges, and universities receiving any Federal funds .Title IX has broader implications than just creating a level playing field for women athletes. But in the years since the law was passed, untold opportunities have opened up for women in sports.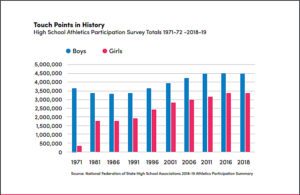 The implementation of Title IX has had a rocky road. It was not clear in the original law exactly how educational institutions would balance spending for men's and women's athletic programs. Universities with men's football and men's basketball programs that were spending and generating vast sums of money felt threatened by the law. Digital Commonwealth provides a link to a 1979 MacNeil/Lehrer Report on Title IX Women's Sports. In his introduction to the half hour video file, Robert MacNeil says "many people wonder whether glamorous, big-time, big-money college sports are threatened by the drive to give women an equal share in college athletics. Tonight, sex discrimination in sports, and the debate over a law called Title IX."
Progress has not been easy. Digital Commonwealth and its member institutions will continue to provide access to documentation of the uphill battle for equity in sports for girls and women.
Barbara Schneider, Member Outreach and Education Committee