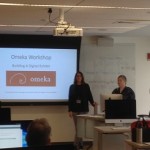 The Digital Commonwealth Outreach and Education Committee is responsible for all the workshops and classes that Digital Commonwealth offers to the cultural institutions of Massachusetts.  While DC has offered workshops on metadata, the digitization process and understanding copyright, the popularity of the digital exhibit workshops took us by surprise.
We started with a workshop on Digital storytelling introducing attendees to various options.  As a follow up, we offered a hands-on workshop specifically on Omeka.  The Building a Digital Exhibit workshop had to be limited in size to allow for the hands-on instruction and they filled up fast.  Ken Liss, Brookline Historical Society president, attended the Omeka workshop in Worcester in October.  He was so pleased with what he learned that he wrote the committee that he wanted to, "…share what I've done with Omeka.net thanks to what I learned at the workshop. I moved content from an old website into Omeka, where it will be much easier to maintain. (I actually created my Omeka account in 2014 with this project in mind, but was not able to make it work until I learned so much more at the workshop.)"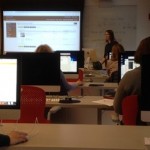 Another attendee suggested we follow up yet again with a showcase of the exhibits that attendees have organized since taking the workshop.  This might be an option – if the conference committee doesn't steal it for a session at the annual conference – but in the meantime, you can take a look at Ken's exhibit on Blake Park, a Brookline neighborhood and the people who lived in it from its development after World War I until the end of World War II.  It is still a work in progress and the photos are from BHS' collection (i.e. not on Digital Commonwealth – yet), but it will give you an idea of what's possible.
Our last Omeka workshop in December is fully booked.  Let us take a breath and regroup,  and then we hope to offer more of your favorite workshops in the New Year.