A lot of new content was added in February–must have been the leap year effect! There's something for everyone with maps, manuscripts, prints and photographs all ready for research  and enjoyment.
The Leon Abdalian Collection
, containing the work of self-taught photogapher Leon Hampartzoum Abdalian reminds me of the
Leslie Jones Collection.
Both men turned their lens' on the people of Boston, Jamaica Plain West Roxbury and surrounding communities and brought ordinary people into sharp focus. Leon and Leslie, good eye!  Travel back in time with them via Digital Commonwealth.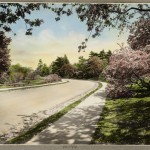 Colonial and Revolutionary Boston (2 items)*
Early, Rare, and Exceptional Items from Special Collections, Rare Books (3 items)*
French Artists (1 item)
Coast Guard Heritage Museum
D.M. Rowland Collection (40 items) 
 Lawrence Public Library 
 Massachusetts Archives