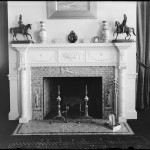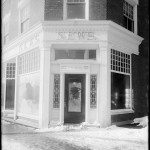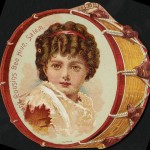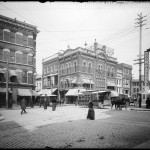 Written by Anne Berard, Reference & Outreach Services Librarian, Milford Town Library
The Frank Cousins Glass Plate Photography Collection, containing over 2500 images, became accessible via the Digital Commonwealth in June. Simply put, it is incredible.
Frank Cousins (1851-1925), a merchant and architectural photographer captured streets and buildings of Salem, Boston and Baltimore. He reserved his most intimate building and street views for "The Witch City", Salem, his hometown. Cousins operated a dry goods shop on Essex Street, called the Bee Hive and he was an integral part of the community. Ever the entrepreneur, he also sold prints and folios in the store.He photographed facades, doorways, stairwells, fireplaces, and other building details and left behind an impressive body of work including  the only known images of some structures lost in the Salem fire of 1914. Cousins' reputation and reach grew with the 1912 publication of Colonial Architecture, Series I, Fifty Salem Doorways.
The collection comes from the Phillips Library at the Peabody Essex Museum. Meaghan Wright, Assistant Reference & Access Services Librarian and her colleagues spent months transcribing information for inclusion in the the metadata so valuable to researchers. The library also hired a digital projects initiative consultant, Jacqueline Ford Dearborn, to review plates with a lightbox and conduct a full rehousing project for the negatives." The plates then traveled to the Boston Public Library's Digitization Lab where their cameras brought the glass plate negatives to their new digital life we can now all access and enjoy. One of Meaghan's favorite Cousins' images shown above is the corner of Essex and Washington Streets. The Phillips staff is thrilled to have Cousins' collection widely available, as their prints were previously for in-library use only.
Another of the Phillips Library collections of glass negatives, the Herman Parker Collection also became available in June. Nowhere near as encyclopedic as Cousins' it takes us to the water. We'll visit  that collection in a future Spotlight On… post.