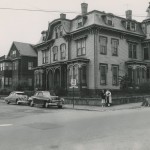 One of our favorite contributors, Lawrence Public Library, added to several existing collections as well as added new collections in July.  One of which is the Lawrence, Mass. Before Urban Renewal Photograph Collection.  Lawrence hired a photography studio to document the first area targeted for urban renewal, so we have photos like the one of Bradford Street (Right) showing what was slated for demolition.
On a happier note, the Cambridge Historical Commission added 278 items to their Cambridge Photo Morgue Collection.  Sometimes the captions only add to the mystery of the photos.  One of my favorites is Cambridge "Sparks" and his radio scooter.  (Below left)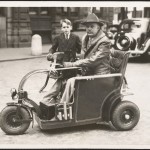 July also saw contributions to existing collections at the Boston Public Library, Harvard Law School Library, a major re-harvesting from Amherst College and a new collection from the South Hadley Public Library. (Below listings.)  We hope all Massachusetts cultural institutions will continue to contribute new and to existing collections.  It makes for a better Digital Commonwealth, which, as you can see, is already pretty amazing.
Amherst College
23 new collections re-harvested; 3,290 new items added to existing collections
Boston Public Library
The Liberator (Boston, Mass. : 1831-1865) – 261 items added to existing collection
Cambridge Historical Commission
Cambridge Photo Morgue Collection – 278 items added to existing collection
Harvard Law School Library
Sacco-Vanzetti Collections – 133 items many to existing collection
Lawrence Public Library
Ayer Mill Spinning Department – 1 item added to existing collection
Franklin Associates – 1 item added to existing collection
George P. Farrell – 1 item
Lawrence British Club, Lawrence, Mass. – 1 item
Lawrence, Mass. Before Urban Renewal Photograph Collection – 132 items
Lawrence, Mass. Engineering Department. Plans and associated papers – 39 items added to existing collection
Lawrence, Mass. Flood of 1936 – 2 items added to existing collection
Lawrence, Mass. Panorama Photographs – 4 items added to existing collection
Lawrence, Mass., Water Department – 4 items
Lawrence School Photographs – 1 item
St. Mary's High School, Lawrence, Mass. – 1 item
South Hadley Public Library
South Hadley Postcard Collection – 101 items