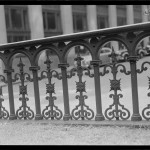 The Beacon Hill Times reported on historic iron fences in Boston central neighborhoods on August 22, 2019.  In addition to explaining how to care for existing iron fences, the Times advised readers:
If a historic fence is non-existent, he [Joe Cornish, Director of Design Review for the Boston Landmarks Commission] suggested looking for historic images at the South End Historical Society, backbayhouses.org, Historic New England, the Bostonian Society, Digital Commonwealth, and the City Archives. [Emphasis added.]
To prove that the Times and Joe Cornish are not misdirecting you, see fences (like the one on the left) on the Digital Commonwealth website – which includes images from Historic New England and the City Archives, too.  You'll find fences of iron, wood, concrete, you name it.
Thanks, Beacon Hill Times and Joe, for spreading the word.