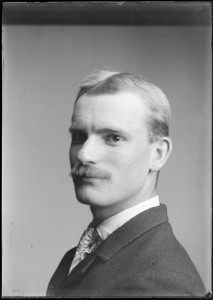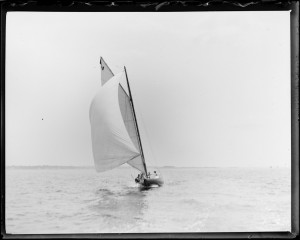 Scenes from the yachting life of the early 20th century in Marblehead come alive through the Herman Parker Collection of Glass Plate Negatives (Parker Collection).  These images, along with the voluminous Frank Cousins Collection of Glass Negatives (Cousins Collection)  were recently added to Digital Commonwealth by the Phillips Library at the Peabody Essex Museum (PEM). We spotlighted the Cousins Collection in a previous post and both collections are well worth perusing.
Herman Parker and his wife Lillian (Percival) were listed in the Social Register of Boston and were active in the active yachting scene in Marblehead which kept and still continues to keep Marblehead Harbor hopping. Parker was an architect and clothier in the Boston based Macullar Parker Company. His side pursuits included sailing and photography.
A defining feature of Parker's photographs is the sense of movement and immediacy he managed to capture– which given the challenges of the glass plate negative process is all the more remarkable. Schooners and boats on the open sea almost appear to be flying and the water churning.  Yacht clubs are thriving and races are still going on in Marblehead. Current sailors should take a look at these vintage photographs.