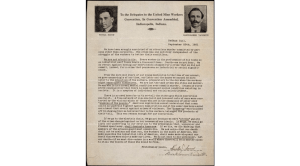 This post was written by Patricia Feeley, BPL Collaborative Services Librarian.
Kimberly Reynolds, Curator of Manuscripts at the Boston Public Library, wanted to recognize the 90th anniversary of the deaths of Nicola Sacco and Bartolomeo Vanzetti. Nicola Sacco and Bartolomeo Vanzetti were Italian immigrants and anarchists who were arrested and convicted of murder during the Red Scare of the 1920's. The two men were executed on 23 August 1927. The conduct of the trial has been criticized ever since on legal and political grounds. Opinion is still divided over the guilt of these men.
The Aldino Felicani Sacco-Vanzetti Defense Committee Collection is one of the Boston Public Library's (BPL) Collections of Distinction. Collections of Distinction are among the most outstanding and renowned of the BPL's collections. The collection contains correspondence, meeting minutes, trial notebooks, financial records, legal documents, photographs, and scrapbooks. Broadsides, the armbands mourners wore at the funeral, Sacco and Vanzetti's commingled ashes and their death masks are also included.
It was the correspondence of the two men that Kim chose to commemorate this anniversary. Sacco and Vanzetti wrote more than 200 letters while imprisoned. They wrote about their innocence, the effects of imprisonment, and their gratitude for the work of their defenders. They also wrote to each other about their friends and family. The correspondence, she points out, has significant research value.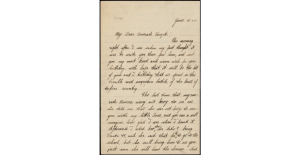 The Sacco-Vanzetti Defense Committee Collection is one of the most used collections at the BPL. After the letters were digitized, Kim supplied links to researchers outside of the Boston area who were "thrilled" to have access to the men's letters.
Kim had worked with the Digital Commonwealth (DC) team before when the BPL's collection of Emily Dickinson letters to Thomas Wentworth Higginson, the Anti-Slavery Collection and the Margaret Fuller Papers, 1837-1884, among others, were digitized.  Kim always finds working with the team "excellent".
It only took 5-6 months to get this latest collection fully digitized. Kim says the DC team taught her "how to look at collections digitally, so" she can now "prepare manuscripts both physically and virtually". And she plans to keep working with the team. Sacco-Vanzetti collection memorabilia, photographs and – Kim's personal favorite – posters are up next on the digitization agenda.
"My metadata might get changed to more appropriately describe an item the way it needs to virtually," Kim says, but, "I trust them completely."
Just months before his execution, Nicola Sacco instructed his attorney to cease trying to save his life. Regardless of guilt or innocence, it is a strong, poignant letter. You can read it here: