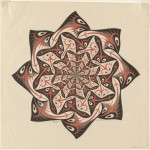 This month, the Boston Public Library (BPL) added 36 items from its M.C. Escher prints and drawings collection.  It also happens that this month the Museum of Fine Arts opened an exhibit of M.C. Escher prints.  Great minds really do think alike.
In addition, the BPL added items to six existing collections as well as lithographs, etchings and drawings of James McNeill Whistler, a Commonwealth-born artist most famous for his mother's portrait.
The Leicester Public Library has uploaded a collection of architectural drawings while the Atwood House Museum of the Chatham Historical Society and the Jamaica Plain Historical Society have added new items to existing collection.
It appears winter is not done with us yet, so let the wonders on Digital Commonwealth warm your day and inspire your spirit.
Atwood House Museum of the Chatham Historical Society
Nautical Chart Collection of the Chatham Historical Society – 49 items added to existing collection
Boston Public Library
Boston Printmakers Collection – 110 items added to existing collection
Colonial and Revolutionary Boston (Collection of Distinction) – 7 items added to existing
collection
Incunabula (Collection of Distinction) – 2 items added to existing collection
James McNeill Whistler (1834-1903). Lithographs, Etchings, and Drawings – 239 items
M.C. Escher (1898-1972). Prints and Drawings – 87 items
Medieval and Early Renaissance Manuscripts (Collection of Distinction) – 36 items added to existing collection
Paintings and Fine Arts Collection at the Boston Public Library – 1 item added to existing collection
Stereograph Collection – 1 item added to existing collection
Jamaica Plain Historical Society
James Michael Curley Negatives – 71 items added to existing collection
Leicester Public Library
Leicester Public Library Architectural Drawings c. 1895 – 19 items