This post was written by Patricia Feeley, BPL Collaborative Services Librarian.
Cynthia Harbeson, Head of Special Collections at the Jones Library, began her job in January 2015. Amherst greeted her with the snowiest winter on record and a digital website in disrepair. She resolved to make Digital Amherst great again.
Happily for Cyndi, Sharon Sharry, the Jones Library director, was a huge fan of Digital Commonwealth (DC) and the Jones Library Trustees were fully committed to increasing access to the Jones Library collections. Cyndi didn't really have to sell anyone on the benefits of bipartisanship cooperation with DC.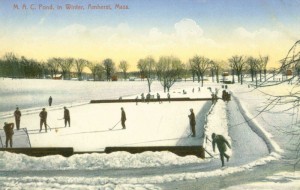 In actual fact, Cyndi recognized that DC was a "wonderful resource" for her project and had the support of her director and trustees. Cyndi also realized DC's harvesting of the Jones collections meant they would be available on the Digital Public Library of America, a bonus in Cyndi's eyes.
In all, it took about a year and a half from initial contact to harvested collections on DC – and some of that time was spent getting Jones' own digital website and metadata in order. The Jones Library decided to have its collections harvested rather than hosted because they planned to maintain the Digital Amherst site as their primary digital presence. They also wanted to be able to add to their website constantly on a small scale. Cyndi plans to notify DC when there are enough items to re-harvest for the wider world. She would not hesitate to contact DC again for a larger project. For the Jones Library, harvesting is the "best of both worlds" for the digital collections.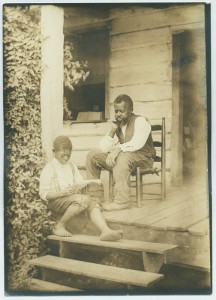 Cyndi found the DC staff "amazing" collaborators. Digital Commonwealth staff was great about getting her what she needed as well as telling her exactly what DC needed from her. Developer Eben English was her primary contact. She was impressed with how quickly and patiently he answered all her questions. With her metadata skills, Cyndi was able to do all the metadata clean up on Jones' end. Still, she was surprised by how little Jones had to do beyond that to get the collections added.
The most noteworthy lesson Cyndi learned from her collaboration was the importance of standardized metadata to a shared project. She wound up changing some of her own metadata to match the standard DC uses and she is sure her metadata is stronger for it. For those lacking Cyndi's skills, DC has a metadata team happy to help our contributors.
Cyndi is proud that the Clifton Johnson collection will have a higher profile. Clifton Johnson (1865-1940) of Hadley, Massachusetts was an accomplished literary figure with some 125 books to his credit. He was an acquaintance of many late 19th and early 20th century authors and editors, including William Dean Howells and John Burroughs. Johnson was also an amateur photographer who traveled widely. Cyndi is delighted that "now the world can find him" and calls his photographs "extraordinary". This collection includes many photos of African Americans in the post-Civil War South. A subject you might not have thought to go to the Jones Library to research.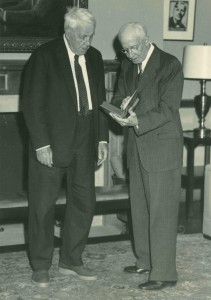 However, the one item that the Cyndi is happiest to see available "to everyone from anywhere" is the recording of Robert Frost's speech at the dedication of the Robert Frost Room at the Jones Library in 1959. She rightly believes it is a special treat for Frost scholars and fans to be able to hear the man himself – as well as commemorating a significant event in the Jones Library's history.
Poetry lovers also may appreciate images connected with Emily Dickinson, her family and her beloved Amherst. The family had a long connection to Amherst College, which is represented by some interesting photos, especially of faculty and students.
For the many University of Massachusetts graduates in Massachusetts and around the world, there are many wonderful images – photos, postcards, stereographs – of the old Massachusetts Agricultural College. Sure to be favorites are the outdoor skating rink (above) and the accompanying image of a tug of war game by the campus pond.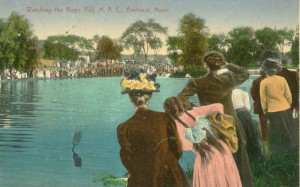 Cyndi has gotten feedback from the people she directs to DC that the photos look great. She also has gotten more image requests lately, but she can't say if there's a connection. Coming from an academic library to Jones, Cyndi has been impressed by "all the hats" she has to wear as a public librarian. It is safe to say one of her favorites is maintaining the very rich digital collection.