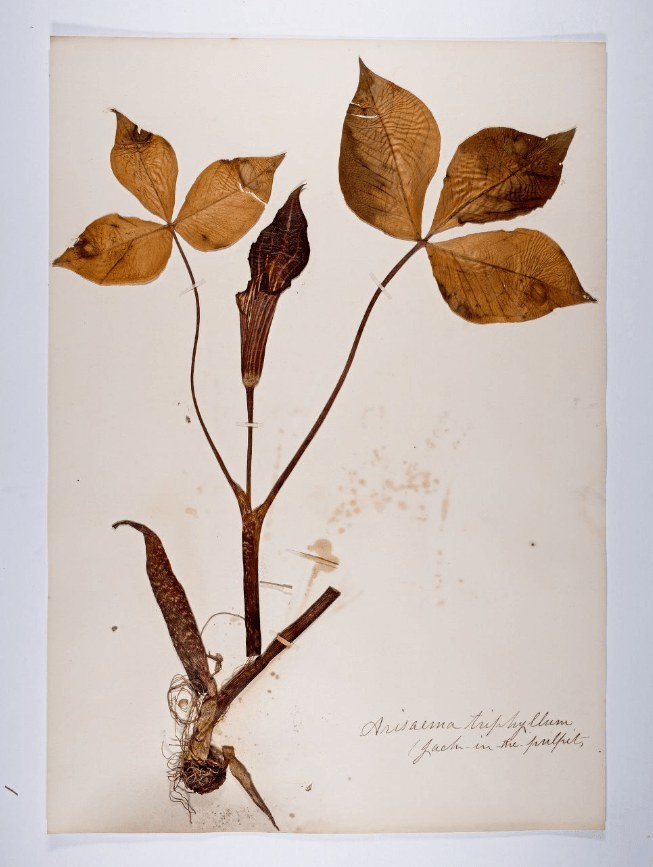 Jean Maguire, member of Digital Commonwealth's Outreach & Education Committee, recently interviewed Sharon Hawkes, Director of the Nahant Public Library about the Florence Johnson Herbarium Collection.
Could you please tell us a little about the history, acquisition, and contents of the Florence Johnson Herbarium collection?
Florence "Miss Flossie" Johnson was a school teacher here in Nahant from 1881 to 1927. She taught her pupils about botany by having them collect, identify, and press plants, many of which grew here in Nahant. The collection of 387 mountings and ephemera includes 181 specimens submitted to the Massachusetts Horticultural Society's exhibit in 1897, winning a prize for being "most remarkable, both in point of numbers and in the quality of the mounting," as the Society wrote. The Library acquired the collection at some point, housed in a small wooden chest of drawers. An additional selection of specimens was owned by the Nahant Historical Society, which voted to give their portion to the Library so that the collection would be in one place and could be digitized together.
How did your library come to choose this collection as a digitization priority?
The collection has been languishing in the library's attic for many years, having become too brittle to be handled. It was important to preserve this piece of Nahant's history before it deteriorated further. Digitization in Digital Commonwealth enables everyone to enjoy the collection, which is often artistically lovely as well as scientifically informative. In addition, Nahant has deep love of its natural spaces, in a town that has only one square mile of land. As Nahant considers restoring some of its spaces with native species, this collection can help inform them about what grew here 123 years ago.
Could you briefly describe how the process of working with Digital Commonwealth and the Boston Public Library went? What steps did the Nahant Public Library have to carry out?
I love working with BPL and Digital Commonwealth! Everyone is very personable and helpful. I worked on numbering and describing each piece and submitted the metadata to Boston to be converted to a format that could be uploaded to Digital Commonwealth. Because our specimens were too fragile to transport, we hired a photographer to make digital images in house, and sent an external hard drive of the images to Digital Commonwealth for uploading.
What, if anything, did your library do to publicize the online availability of the collection?
Digitizing the collection is part of a larger "Nature in Nahant" project, funded by the federal Library Services and Technology Act and overseen by the Massachusetts Board of Library Commissioners. The collection was featured in the local paper, the Daily Item, and on local cable and YouTube. We ran a town-wide read of The Stranger in the Woods and talked about our personal need for nature in our lives. And we have been partnering with nine other individuals or organizations, who helped us create a Walk Nahant brochure and publicized our activities among their friends and members.
Have you received any feedback about the collection from the public?
We created an exhibit of nine poster-sized enlargements from the collection along with photos of the plants as they grow here today. Residents from Nahant and surrounding communities have visited to see the exhibit and hear about the collection. Most recently, that included Nahant's nonagenarian and local history expert, Calantha Sears, who enjoyed the exhibit and the tale of Miss Flossie.
Do you have plans to make other collections available online? If so, what is your process for selecting and prioritizing them?
I would like to do something similar with our art collection, which mainly consists of paintings of Nahant homes and locations from when the town was a vacation hub for Boston's elite. We also have over 300 volumes of the Library's original book collection, dating back to 1819, one of the oldest municipal library collections in the country. Finally, there is an archaeological collection of stone tools used by indigenous peoples who came to Nahant seasonally to fish. I think about criteria such as fragility and a need to preserve the items as well as their value to our patrons and to society at large.
Is there anything else you'd like to share?
Please go see the collection! You can also learn more about it on YouTube. Give us a call and make an appointment to see the exhibit, on display now. And follow us on Facebook to learn about what Nahant Public Library will do next to promote "Nature in Nahant" and its archival collections. I would like to thank everyone who has helped work on this project, which made it a pleasure to do.