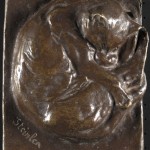 May is supposed to be the payoff for all those April showers.  Only the showers kept coming in May.  Digital Commonwealth was showered by harvested images from the American Archive of Public Broadcasting (17,335 items), Boston TV New Digital Library (1,632 items) and the University of Massachusetts/Lowell (6,825 items).
Theophile Alexandre Steinlen is more than the cats for which he is most famous. But that didn't stop me from using one of his sleeping cats to illustrate this post.  (See left.)  You'll just have to go to the Boston Public Library's Steinlen collection to see the rest.
Or go to the Malden Catholic High School class photos from 1936-2016.  Everybody enjoys a good class photo, but let's be honest.  We enjoy the bad ones even more.  Sorry, kids.
American Archive of Public Broadcasting
17,335 new items harvested
Boston Public Library
Press Photography from the Brearley Collection – 430 items added to existing collection
Paul Gavarni (1804-1866). Lithographs and Other Works – 2,389 items
Théophile Alexandre Steinlen (1859-1923). Lithographs, Etchings, and Other Works – 139 items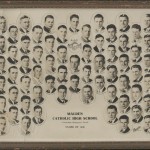 Boston TV News Digital Library
5 collections, 1,632 items harvested
Malden Catholic High School
Malden Catholic High School Class Photos/Yearbooks – 73 items
University of Massachusetts/Lowell
Paul Tsongas Digital Archives – 6,601 items harvested
Center for Lowell History – Southeast Asian Digital Archive – 6 collections, 224 items harvested