by Mary Bell, Assistant Director
Wilbraham Public Library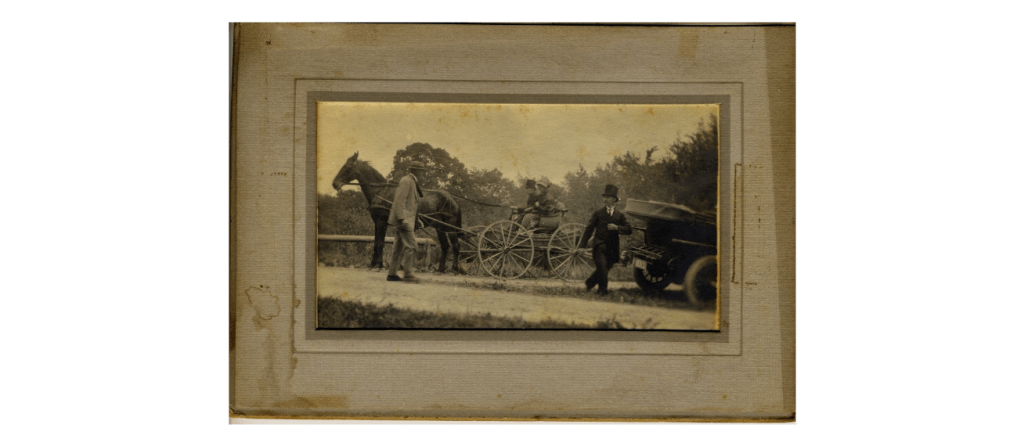 This unassuming photograph of a couple in a horse-drawn carriage and two men standing outside is the best proof I have of Wilbraham's involvement in the Underground Railroad.
Handwriting on the photograph describes this scene as part of a pageant during Wilbraham's 150th anniversary in 1913, and identifies the couple in the carriage as Elsie Farr and C.E. Edson. The Springfield Union, Friday evening edition of June 20, 1913, describes the celebration in the language of the day as follows: "The children sang 'The Prison Cell' and as they were closing, the audience was surprised to see coming down the hill, pursued by men, old-time slaves, who, just as they were about to be seized by their masters, were rescued by Glendale people and borne away to safety. This was intended to typify just such scenes as occurred in the North 60 years ago when Glendale was a famous underground railroad station." Elsie and C.E. were playing Lucia and John Calkins, abolitionists who – rumor has it – were early conductors on the railroad.
The photograph was taken on June 20, 1913, the third day of the Sesquicentennial celebration of Wilbraham's incorporation. The bulk of the day's events was the unveiling of a boulder at Glendale Cemetery honoring the town's veterans, especially American Civil War veterans who were present at the ceremony. The photograph is fascinating as a celebratory moment in time – and what would have been considered an acceptable pageant a century ago – in addition to a hint of the past.
In the Civil War period, the Glendale section of Wilbraham would have included what are now two towns, Wilbraham and Hampden. The people of Glendale established a Methodist church and an abolitionist movement, which included a few neighborhood families – notably the Ames and Calkins families – who are said by local historians to have been conductors on the Underground Railroad. When this photograph was taken sixty years after the fact, several people were still around who could have contradicted the story of John and Lucia Calkins as told in the pageant but did not. While the evidence is circumstantial at best and may not convince the skeptic, this photograph reveals an early story in Wilbraham history about involvement in the Underground Railroad.