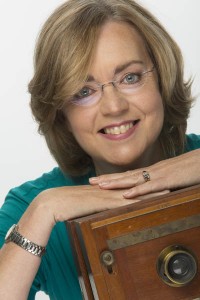 How well are people discovering and understanding the photographs in your digital collections? There are currently more than 100,000 photographs in Digital Commonwealth. How can you improve the chances of users finding the ones that are relevant to their research?
Join the Digital Commonwealth at a special program called Enhancing Photograph Descriptions: Advice from the Photo Detective, which will be offered at three locations in different parts of the state.
Join us at one of these events, where photograph expert Maureen Taylor will show us how to create the best metadata we can for the photographs in our digital collections. Maureen Taylor, known as the Photo Detective, is an internationally renowned expert in historic photo identification, preservation and genealogical research. She is the author of several books on identifying, organizing and understanding photographs, and has been featured on television programs, newspapers and magazines.
Here are the details and registration links for the two sessions that have been scheduled so far:
Date: Tuesday, October 6, 2015
Time: 10:30 – 11:30 AM
Location: New England Historic Genealogical Society
99-101 Newbury Street, Boston
Members/Non-members: $25/$40
Register
Date: Wednesday, October 21, 2015
Time: 10:00 AM – 12:00 PM
Location: Forbes Library
29 West Street
Northampton
Members/Non-members: $25/$40
Register
Date: Tuesday, November 10, 2015
Time of event: 10:00 AM – 1:30 PM
Schedule: 10:00-10:15 – Registration;
10:15-11:30 – Tour of Nickerson Archives and discussion of its digitization projects
11:30-12:30 – Lunch on your own
12:30-1:30 – Maureen Taylor lecture
Location: Wilkens Library, Cape Cod Community College, West Barnstable
Directions | Campus Map
Lunch options: Cafeteria on campus (in Grossman Commons); restaurants (Subway, Burger King, etc.) down the street
Register