7th Annual Digital Library Conference
May 1, 2013, 8:30 am to 4:00 pm, at the Devens Commons Center,
31 Andrews Parkway, Devens, Massachusetts.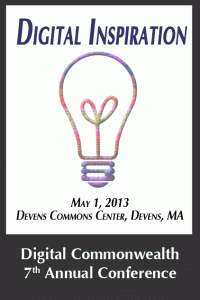 Registration Fees:
Digital Commonwealth Members: $95
Students: $95
Non-Members: $110
Advanced Registration Deadline: April 20, 2013
9:45 – 10:45        First Keynote
The Digital Public Library of America: Interconnection and Advocacy on a National Scale
Amy Rudersdorf, Assistant Director for Content, Digital Public Library of America
When DPLA launches in April 2013, it will become a central repository for a vast array of data about digitized and born-digital collections from all over the United States, from public to academic to special libraries (think Digital Commonwealth) and national collections (the Smithsonian and the National Archives, for two). Access to the data will be available centrally through a DPLA portal, but also as an open API, enabling anyone, anywhere to develop apps, services, and tools to answer their personal or organizational needs. Keeping the data open in the "cloud" so it can be used by the "crowd" means that librarians in New York and Texas can use it one way, historians in Florida and Alaska another, and maybe even schoolchildren in Australia still another.This talk will provide an introduction to DPLA and its mission and goals, update our Digital Commonwealth partners on our progress, and make a case for opening up our nation's library, archives, and museum data to the world.

12:00– 1:30       Lunch and Second Keynote
Share and Tell: Digital Stewardship and Digital Storytelling
Butch Lazorchak, Digital Archivist, Library of Congress
Libraries, archives and museums provide the "building blocks" for lifelong learning. Organizations like Digital Commonwealth provide the technical infrastructure to ensure that these digital building blocks are stored, described, made accessible and preserved over time.
The stewardship of digital information is an incredibly valuable service that requires technical expertise and diligence along with significant resources, both human and monetary. But while our community's expertise in format obsolescence, ingest mechanisms and administrative metadata helps to ensure that the digital materials under our care are technically protected, it doesn't ensure that people outside our community understand the work we do and its value.
That's why, more than ever, we need to remember that we're in the storytelling business.
Storytelling is a way for us to talk passionately about the resources under our care and to build the emotional case that the work we do has value. These are not fairytales; many of the stories we tell don't necessarily have happy endings. But the resources we steward are the building blocks for our patron's stories and help people understand their place in history, the economy and the world.
There are so many exciting advances in technology that affect the work we do. We'll take a quick survey of some interesting things (crowdfunding for government; citizen archivists; personal digital archiving; digital mapping) and try to get to the essence of why they're important to our profession and our patrons and explore how we can leverage them to tell stories about the incredible value we have in our digital commonwealth.