Guest post by Jeff Klapes, Head of Reference Services, Lucius Beebe Memorial Library, Wakefield, Massachusetts
Beebe Library in Wakefield is a busy, medium-sized library serving a population of 25,000. We have a variety of historical collections, including photographs, postcards, maps, local government documents, and more. Boston Public Library has been invaluable in helping us digitize these materials for better access and preservation, scanning our maps, annual town reports, school yearbooks, and local history monographs for the Internet Archive. However, we've also worked on a number of other projects that we could manage ourselves. Two of these collections in particular are worth noting.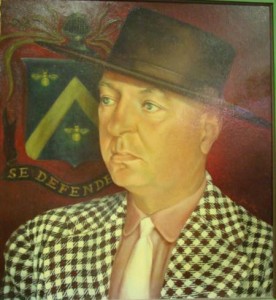 First, we have long held a number of framed paintings, watercolors, sculptures, and other artworks with some local connection – either the artist or the subject matter is connected with Wakefield. Some of these works are on public display, others are hidden in administrative offices, and still more are stashed in storage because we have no place to display them. Partly for inventory and insurance purposes, and partly for patron access, we photographed all of these works and added them to our online catalog. Catalog records include the physical description, historical notes, text from the back of the artwork (if any), and the location where the work can be found in the building. The example shown here is of Lucius Morris Beebe, one of the family for whom our library is named. We're oddly fond of this arguably awful painting and it hangs over the fireplace in our new nonfiction room. Lucius was a well-known socialite, writer, and bon-vivant, and was voted one of the ten best dressed men in America, although it's hard to believe judging from that houndstooth blazer. But by cataloging all of these artworks, they are now searchable and viewable in our catalog, whether they're in storage or anywhere else.
A second ongoing project involves current photographs of historic buildings in the community. One thing we've found as researchers of local history is that there never seems to be a photo of the site you want taken from the viewpoint you want. Often an image, if it exists at all, shows only the front of that old theater, but not the back, or it's a great shot of that historic house, but not close enough to make out that architectural detail. Wakefield has approximately 400 properties that are listed on local, state, or national historic registers, and we began taking current photographs documenting not only the traditional picture postcard view, but also side and rear views, and close-ups where appropriate. We also make a point to document sites that are slated for demolition, to insure that there is some evidence of them before they disappear. To do this more efficiently, we got the library added to the list of town agencies that are notified of any demolitions in advance. The example shown here is a Shingle Style home that stands at the end of a long private drive. In this case the owner was generous enough to allow library staff to photograph the home from all sides and close up, making available images of a property that would otherwise rarely be seen.
All of our historic digitization projects are included in several levels of online archives: the NOBLE (North of Boston Library Exchange) Digital Heritage site, the Mass. Digital Commonwealth, the Internet Archive, and the DPLA.
Jeff Klapes
Head of Reference Services
Lucius Beebe Memorial Library, Wakefield MA
781.246.6334
klapes@noblenet.org