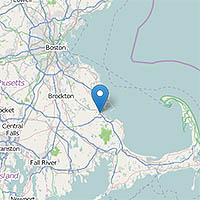 Visitors to the Digital Commonwealth site can now browse the ever-growing collection using a number of different map views. These maps show the locations of cities and other landmarks depicted or described within items in the collection. By clicking on a marker on the map, visitors can search for all items from a specific location. Visitors can also use the map's search button to find all items from within a particular geographic area displayed in the map window. This new feature offers a powerful and exciting way to explore the collections, and provides vivid evidence of the global scope and relevancy of the collections contributed by Massachusetts cultural institutions.

There are 4 map views currently available:
Map – This 'browse everything' view allows users to find objects from over 8,000 locations represented within the entire Digital Commonwealth. Clicking on a map marker will initiate a search for items corresponding to that location.
Search Results – By clicking on the globe icon in the search results display, users can see the locations of items currently returned in the search results. Clicking on a map marker will limit the search results to items corresponding to that location.
Item Detail – A map widget appears on the item detail page for all items with geographic metadata. For digitized maps, bounding boxes showing the area described by the map are also displayed on the widget. Clicking on a location or bounding box will initiate a search for items corresponding to that area.
Collections – On the collection description page, a map shows all the locations described by items in the collection. Clicking on a marker will initiate a search for items in the collection corresponding to that location.
Locations are displayed using coordinates pulled from the Getty Thesaurus of Geographic Names as well as GeoNames, which are controlled vocabularies that provide information on geographic locations such as cities, countries, oceans, and landmarks. Only items with location data in the metadata records can be displayed, which is another reason why creating records with geographic subjects is a great way to increase access to digital history collections.
More map functionality (such as a map showing the location of all contributing institutions) is planned for the near future.