7th Annual Digital Library Conference
May 1, 2013, 8:30 am to 4:00 pm, at the Devens Commons Center,
31 Andrews Parkway, Devens, Massachusetts.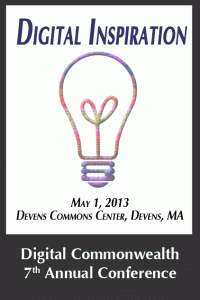 Registration Fees:
Digital Commonwealth Members: $95
Students: $95
Non-Members: $110
Advanced Registration Deadline: April 20, 2013
Keynote Speakers:
Breakout Sessions:
Introduction to the Digital Commonwealth
Karen Cariani, WGBH and Digital Commonwealth Vice-President
Preserving and Preparing Materials for Digitization
Donia Conn, Preservation Consultant for Cultural Heritage Collections
Continuing Education Opportunities
Jamie Roth, JFK Library and Society of American Archivists instructor.
Ross Harvey, Simmons College, Digital Stewardship Certificate Program.
Joseph Fisher, UMass Lowell, graduate of the DigIn Certificate Program.
Digital Commonwealth 2.0 and Metadata — Make, Morph, Manipulate, Master
Tom Blake and Danny Pucci, Boston Public Library
The Future of the Past: Digital Libraries in the Age of Social Media
Elizabeth Thomsen, NOBLE
Digitized Local Newspapers
(presenters to be announced)
Rapid Fire Inspiring Projects Lightning Round 
Presentations by several Digital Commonwealth members
Dealing with Vendors
Michael Bennett, University of Connecticut and Paul Coute, Massachusetts Higher Education Consortium
Digital Commonwealth 2.0: Creating Online Digital Collections with the Redesigned Repository System
Steven Anderson and Eben English, Boston Public Library