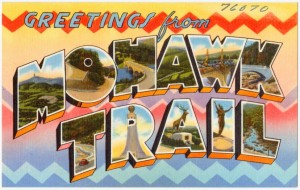 The general route we now know as the Mohawk Trail was once a rough footpath used by the Wampanoags, Nipmucs, Mahicans, Mohawks and Pocumtucks for hunting and trading. Early European settlers used this path as a travel route between Boston and Albany, and as a military route during the French and Indian Wars and the Revolution. In 1814, it became a stagecoach route when service began between Greenfield and Troy, New York.
But the ancient footpath received its name and fame one hundred years ago, in October, 1914, when the Mohawk Trail was dedicated and designated as a scenic highway by the Massachusetts General Court. The road had been engineered and graded for automobile travel at a time when the automobile was becoming an affordable means of transportation. It was unpaved and only 15 feet wide, still an adventurous journey for the early automobile tourist, but gas stations, restaurants, guest houses and souvenir shops soon opened to provide services to the new auto tourists, and the route became famous for its scenic beauty.

The Mohawk Trail has seen many changes and improvements through the year, and it's still a popular drive. It's beautiful at any time of year, but never more so than during the fall foliage season. The Digital Commonwealth collection includes many pictures of the Mohawk Trail, including these beautiful images from the Boston Public Library's Tichnor Brothers Postcard Collection.
Beauty Spot

Bridge of flowers

The Rockledge Restaurant on Mohawk Trail, Greenfield, Mass.

Bird's-eye view, hairpin turn

The big bridge over the Deerfield River

Arrow Gift Shop and Cabins

Along the Deerfield River

Along Cold River

Greenfield Valley