I am not a board member of the Digital Commonwealth. In fact, until the 2014 Annual Conference, I had never attended a Digital Commonwealth event. However, when I showed up, along with three other guests, at the May 2014 board meeting, I was welcomed quite warmly.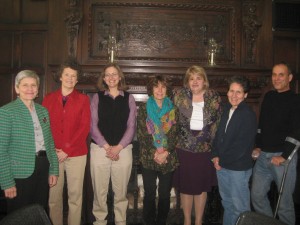 The term board meeting makes it seem like it should be extremely formal, possibly even stodgy; however, I got the distinct impression that, although everyone there took the proceedings very seriously, they weren't just going through the formal motions. These were real people doing real work.
At the meeting we discussed the previous month's annual conference, the activities of the outreach committee, a plan for debugging the integration of the repository's new website with the older member site. Being right there during the conversation, it was very easy for me and my fellow guests to add our two cents or volunteer bits of our time to help out. I can guarantee that I would never have participated as much if I had only read about it in the newsletter; that extra barrier of sending even one additional email in response to a call for volunteers would be enough to stop me.
Now, clearly I'm very excited to be part of this whole process, but I can see why others might have reservations. That's why I truly want to encourage you to sit in on even just one meeting. That's not very much of a commitment, is it? And in that one meeting, you'll be able to see the best way for you to participate based on your own schedule: whether it's sitting on the board, volunteering for a committee, or helping out with only one local event. As a volunteer-run organization, we need our members to participate, and I hope you'll consider doing so by sitting in on a future board meeting. The next meeting will be on June 23 from 9:30-12 at the MLS building in Marlborough (225 Cedar Hill Street, Suite 229 Marlborough, MA 01752). If you plan on attending, please contact Karen Cariani at karen_cariani@wgbh.org.
Submitted by Sadie Roosa, WGBH