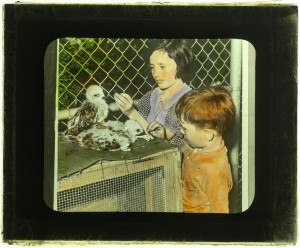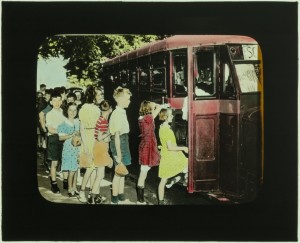 Having been established in 1913 by the Science Teacher's Bureau, the Boston Children's Museum has grown in size, stature, and influence in those 107 years. What's remained the same, however, is the mission to educate children about the world through exposure, interaction and observation.
In November of 2019, hundreds of lantern slides were added to Digital Commonwealth. This collection shows the early years of the museum, the second oldest of its kind.
Even before STEM became a commonly known acronym, the Children's Museum was a pioneer in teaching about the natural world, offering lots of field trips and collecting specimens for identification and study. Jaunters Clubs filled with both boys and girls took their nets and jars and had a truly hands-on experience with the natural world.
Echoing the diversity found  in nature, the early Boston Children's Museum mounted exhibits teaching about other countries and cultures. Dolls and dollhouses from all over the world delighted  thousands of kids. Many dolls were mechanical, sparking curiosity. Games and spontaneous play were encouraged. Visit the full collection of over 300 slides.