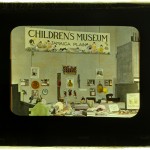 Let us give thanks for November's new collections.  And additions to existing collections.  But I was most taken with two of our new collections: Boston Children's Museum Lantern Slides and the Washington Historical Commission Collection.
Many of the lantern slides are hand-colored, giving unnaturally rosy cheeks to all captured in the image.   I never knew the Children's Museum started in Jamaica Plain, but you can see in the image at left that it was still there in 1940.  Not that the museum was parochial – you'll see Images of international exhibits on Egypt, China and Scandinavia for a few.
The Washington Historical Commission Collection is a wonderful collection of images, texts and ephemera.  The Reward of Merit (Below right) is something I've never seen.  Apparently, they were handed out by teachers to students.  Who wouldn't settle down to their studies if they were given certificates like this?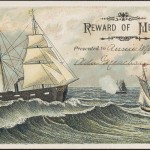 Boston Children's Museum
Boston Children's Museum Lantern Slides – 350 items
Boston Public Library
Paintings and Fine Arts Collection at the Boston Public Library – 5 items added to existing collection
Harvard Law School Library
Sacco-Vanzetti Collections -153 items added to existing collection
The Medford Historical Society & Museum
The Medford Historical Society Civil War Collection – 320 items
The Medford Historical Society Civil War Photograph Collection – 95 items added to existing collection
Southeast Asian Digital Archive – 4 collections, 337 items re-harvested
Sterling and Francine Clark Art Institute Library – 80 items re-harvested
Washington Historical Commission
Washington Historical Commission Collection – 573 items