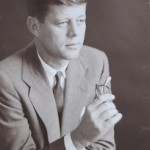 Every town has one.  The general store where everyone discusses local politics.  The church where the community has potluck dinners.  The community center where the schools and amateur theater troupe put on shows.  They're gathering places that you can't imagine losing because they've always been there.  Until they're not.
Someone retires, a weather disaster occurs, an owner gets an offer too good to decline and that local institution is gone.  What can you do to preserve it?  In Boston, the latest example was the closing of Doyle's Cafe.  Doyle's was an institution in the Jamaica Plain neighborhood, known for attracting politicians and generations of families.  And for the memorabilia on its walls.  When the decision was made to close, the owners held an auction of its contents.
As reported on the Irish Central website, Digital Commonwealth and the Boston Public Library are teaming up to digitize any item purchased at the auction.  So, if you are losing a local institution and you can't add its contents to your collections, think about having them digitized.  Chances are you have an image, maybe a map, that includes the institution, why not have a digital image of the furnishings, the banners, the costumes?  Enrich the memories and your collections before they're lost.