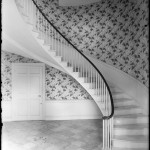 Digital Commonwealth uploaded several outstanding photograph collections in June.  But it's not all photos, there are maps from Phillips Academy in Andover and a painting from the Massachusetts Department of Conservation and Recreation.
But the photos are this month's find.  Like the unusual Massachusetts Metropolitan District Water Supply Commission, Quabbin Reservoir, Photographs of Cemeteries, 1928-1945 from the Massachusetts Archives. It's sure to be a boon to anyone researching the flooded towns and their families. And the usual Boston Public Library additions to existing collections, like the Leon Abdalian Collection. If, like me, you're a sucker for snowscapes, Abdalian's photos, e.g. Ward's Pond, snow view of hillside are a Christmas-in-July gift. (See below.)
The Phillips Library at the Peabody Essex Museum makes a splash with its inaugural contributions of photographs from the glass plate negatives of Frank Cousins and Herman Parker.  Cousins' larger collection began with photographic essays on Essex County, but soon expanded across the eastern seaboard of the US.  Any fan of historic buildings will appreciate his elegant photos of exteriors and interiors, like the stairway inside the Governor Gore mansion (See top left.)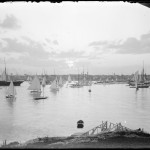 Parker also photographed Essex county, but focused on views from his home in Marblehead. I feel I could walk right in to the Views across Marblehead Harbor with boats (See bottom left.) at sunset photo – and I want to. What a great end to a summer day!