Too many people think history is as dry as dust.  All dates and wars and people in funny clothes with funnier hats.  Show them their street 100 years ago or a 50-year-old yearbook for their high school and you have their attention. Ask them if they can identify a house on their street or its former owner and you have a Watson and the game's afoot.
With the Granville Public Library's collection digitized, Dick Rowley took advantage of other services offered by Digital Commonwealth.  He took an Omeka workshop on creating online exhibits.   The Granville Historic Image Library is the result.  The images are the main attraction, but there's also an ongoing project to upload the Catalog of Historic Document Collections and Books from the Granville Public Library's Historical Room with links to already-digitized versions of the Historical Room collection on websites like Internet Archive.
Dick also started posting Mystery Monday and Flashback Friday photos to the Granville Forum on Facebook.  He encouraged Forum members to contribute information and photos.  He got both.  Posters identified one old house as the original Baptist church that was moved across the street, so the new church could be built.  Even better, this wonderful wedding photo shows multiple generations of Granville residents at the wedding of Helen Alvina Hansen and Charles Louis Drolett, Jr. Dick reports the photo owner had no idea who the people in the photo were.  By posting it, Granville's "village elders" were consulted and able to identify everyone.  Amongst the "elders"?  One of the little girls in the photo.
Find A Grave is one of the most popular websites for genealogists and local history buffs.  Dick has used the website to spread the wealth of resources in the Granville collection.  A distant relation will be thrilled to find a photo of Nathan Fenn on his Find A Grave page.  Although, my favorite has to be the Weekly Report on the Conduct of… Melissa Phelps.  What a delight for any descendant of Melissa Phelps Gaines to discover this gem.
Some of the stories are more poignant.  In trying to locate the oldest house in Granville, Dick was sent a photo of a 1934 copy of the Granville Center News.  The News is a story in itself.  It was published by Newton kids who summered in Granville.  They report on a resident of the purported oldest building, Chapin Brown, who was "slightly crazy".  A little research uncovered the man had served in the Civil War.  Post-traumatic stress disorder?  Perhaps.  We don't always get the full story, but a lot more of Chapin Brown's has been restored because someone asked about the oldest house in town.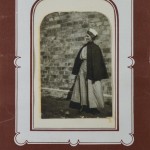 A more inspirational story comes as a result of Dick's collaboration with the Woodlands Cemetery Association (WCA).  This is my favorite.  The Granville Historic Image Library, Historical Room, Granville Public Library provides the images and the WCA provides the profiles of the interred in their newsletter.  Susan A. Phelon Barber was born and raised in Granville.  She was educated in Westfield and became a teacher.  She moved to Maine to study nursing and joined the U.S. Army nursing corps during World War I.  She served in Europe until 1919.  She then moved to Los Angeles to serve as a private nurse. Eventually, she returned to live in Granville and work as a nurse in Westfield.  She married a high school classmate in 1930 at the age of 45.
These remarkable people lived in a small town, but hardly had small lives.  If they were lost for a while, they have now been restored.  You can do the same for your small Massachusetts town and Digital Commonwealth can help.  Give us a call.  Let's restore some more stories.