All the latest news from the Digital Commonwealth of Massachusetts!

Updates for April, 2013
The annual conference is taking place May 1! Don't forget to register!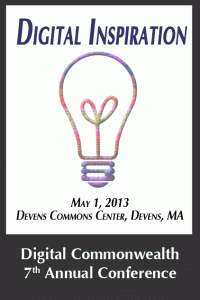 Featured at this year's conference is the Keynote presentation by Amy Rudersdorf, Assistant Director for Content for the Digital Public  Library of America.
 Amy's talk will provide an introduction to DPLA and its mission and goals and make a case for opening up our nation's library, archives, and  museum data to the world. We should also hear about how the DPLA intend to use Digital Commonwealth content in their plans.
 Besides Amy, the conference will also feature a second Keynote by Butch Lazorchak, Digital Archivist from the Library of Congress. Butch  will talk about Digital Stewardship and Digital Storytelling that includes crowdfunding, citizen archiving, personal digital archiving, and  digital mapping.  For anyone who follows the Signal Blog, as all of us should, you are well aware of Butch's good work.
In addition the conference will offer nine breakout sessions covering digital collection preparation, continuing education opportunities,  digitizing newspapers, dealing with vendors, and two sessions introducing the new BPL repository for its first public debut display! (explained in more detail below)
For a full list and descriptions of the all the conference events including the nine breakout sessions please visit the Digital Commonwealth member's site @ http://members.digitalcommonwealth.org.  Also available in this PDF document.
New BPL Repository to Debut at Digital Commonwealth Conference May 1
The late afternoon breakout session, "Digital Commonwealth 2.0: Creating Online Digital Collections with the Redesigned Repository System," will provide the first full public introduction to the new Digital Commonwealth repository. The presentation will be provided by the repository's two developers, Steven Anderson and Eben English.
An earlier afternoon session, "Digital Commonwealth 2.0 and Metadata: Make Morph, Manipulate, Master," will demonstrate the process of creating, editing, and uploading descriptive records using the new repository system.
Digital Public Library of America harvests 20,400 records from Digital Commonwealth 
For it's Initial Release on April 18, the DPLA gathered content from seven partner repositories, one of which was the Digital Commonwealth. 20,400 records were harvested from the Digital Commonwealth's Omeka repository by the DPLA. That accounts for over 90% of the content available. The DPLA's public launch will be celebrated at a
two-day event
at the Boston Public Library on April 18 and 19.
Digital Commonwealth Images Featured in the DPLA  Public Release Promotion
Several images from the Digital Commonwealth will be highlighted in special exhibits, displays, and promotions for the upcoming Digital Public Library of America public release. Items from Watertown, Southbridge, and Williamsburg Public Libraries will be included in a special DPLA exhibit celebrating National Library Month. And if you are driving into Boston on rt. 90, be sure to look up at the WGBH digital mural for a massive display of selected images from Digital Commonwealth members! 
2012 Digitization Training Sessions Wrap-up Report
During 2012, Digital Commonwealth of Massachusetts offered 8 digitization training sessions for staff from libraries, archives, and cultural institutions who were interested in issues relating to the creation and enhancement of digital collections. A recent LSTA grant awarded to the Boston Public Library (BPL) by the Massachusetts Board of Library Commissioners (MBLC) allowed the Digital Commonwealth to work with staff of the Northeast Document Conservation Center (NEDCC) on the training sessions. The topics covered in the sessions included digital project planning, selecting and preparing materials for digitization, and file format and metadata issues. Read more on the Digital Commonwealth blog.

Free Workshop: Developing Lesson Plans with Digital Content from Digital Commonwealth
Are you a teacher (4th to 12th grade) who is interested in developing lesson plans featuring digital content? Here is an opportunity for a FREE workshop offered by Digital Commonwealth at Framingham State University on June 24, 2013. Full details are available in this blog post and registration is available at http://members.digitalcommonwealth.org/events.
| | |
| --- | --- |
| Sincerely, Digital Commonwealth | |