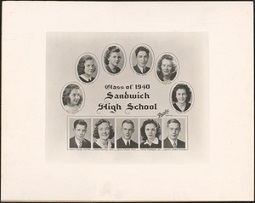 Sometimes when I write these blog entries, I mention in passing that, ho-hum, the Boston Public Library or UMass/Amherst have added – again – to their extensive holdings.  I like to shine the spotlight on the little guy, like Northfield Mount Hermon or the Sandwich Town Archives.
Then I see this month's addition by UMass/Amherst of two – count 'em, two – collections totaling 9,135 items.  Wow.  Words fail me.
In the meantime, even if you didn't attend Sandwich High School, you should enjoy a look at the class photos from the 1940s-1970s.  (See left.) It is interesting to note the growing population and, always, the change in hairstyles and fashion.  If you follow this blog, you know that I love a good map and the Massachusetts Archives has added more town plans.  The plan of Monson by Aaron Bliss is jarringly colorful.  (See below.)  Once you zoom in, it looks like a town plan.  In the thumbnail, I keep thinking abstract expressionism.  Very Picasso.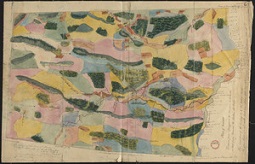 Boston Public Library
American Masters 1850-1960 – 4 items
Digital Transgender Archive
9 collections – 2391 items re-harvested
Massachusetts Archives
Town plans, 1830 – 324 items
Northfield Mount Hermon
The Hermonite (1888-1969) – 38 items
Sandwich Town Archives
Sandwich Town Archives Historical Photograph Collection – 33 items
Scottish Rite Masonic Museum & Library
6 collections – 501 items
University of Massachusetts Amherst Libraries Special Collections and University Archives
2 collections – 9,135 items re-harvested