Written by Anne Berard, Reference& Outreach Librarian, Milford Town Library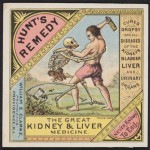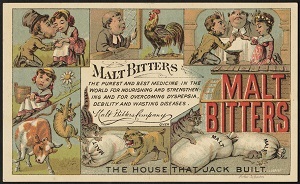 While the earliest advertising cards first circulated in London, Lyon and Paris in the late 17th century, advances in color lithography and printing in the 19th century made them easier to produce and more ubiquitous. Everything from soap, thread, perfume, hats, shoes, coffee, candy and more were marketed in these stylized cards.  Digital Commonwealth has more than 3700 unique images in its collection. Some of the most entertaining and possibly alarming, cards were for tonics and health remedies that might belong in the annals of medical quackery. Blood-purifying agents were all the rage.
Hunt's Remedy (above, left) claimed that it was"never known to fail" and cured dropsy (edema), liver, bladder, kidney and urinary problems. It was produced by William E. Clarke of Providence, Rhode Island. The graphics show a shirtless man fighting off the Grim Reaper.
Boasting of health and sunny hours, an Ayers Sarsaparilla (above, center) card from 1902 featured a lovely woman in Victorian dress holding a tot on her shoulder. Dr. J.C. Ayers operated in Lowell, MA. Sarsaparilla root is still used today in some herbal medicines to treat psoriasis and rheumatoid arthritis.
Touting itself as the "purest and best medicine in the world" for overcoming dyspepsia, debility, and wasting diseases was Malt Bitters of Boston, MA.  (above, right) Their detailed card also promised "stimulation without intoxication."  Playing off the theme of the House that Jack Built, the card has charming artwork, attractive lettering and tells a complete story.
In time, radio ads were a more modern means to reach a larger audience and trade cards fell out of fashion. Larger companies still produced catalogs and smaller enterprises converted to smaller business cards and matchbooks.
To see the complete collection of 19th Century American Trade Cards, begin here.