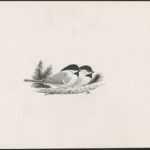 Although summer slips away too quickly for some of us, those of us who wilt in the heat and humidity are happy to see the end of July.  If you're not, don't fret.  August is promising more of the same.
The Boston Public Library was busy this month, adding to the Leslie Jones Collection as well as adding over 100 items of Thomas Wentworth Higginson Correspondence.  Fans of the 2013 Isabella Stewart Gardner Museum Anders Zorn exhibit will be happy to see the BPL's Zorn etchings.  Allow me to draw your attention to the Stow Wengenroth Prints and Drawings, though.  The exquisite Two Small Birds on a Bough (left) is from this collection, which includes other bird drawings and some lovely Maine scenes.
Medford Historical Society & Museum has added significantly to its already impressive Civil War Photograph Collection.  The Lawrence Public Library has also added more photographs plus a new collection of World War I-related items.  The Sterling and Francine Clark Art Institute Library began the harvesting season early with 64 new items to their collections.
The heavy hitters this month are the Massachusetts Historical Society (4,161) and Springfield College Archives and Special Collections (5,181), who re-harvested 4 new collections.  I'm not sure that the Arthur and Madeline Slicer Turnvereine Stein Collection is one of the newly-harvested collections, but I offer the jovial barrel-shaped character stein image below because we all need a cool drink of something during the dog days of August.
Boston Public Library
Anders Zorn (1860-1920). Etchings and Other Works – 204 items
Leslie Jones Collection – 6 items added to existing collection
Stow Wengenroth (1906-1978). Prints and Drawings – 372 items
Thomas Wentworth Higginson Correspondence – 156 items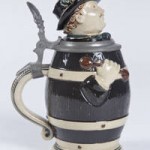 Lawrence Public Library
Art Work of Lawrence and Vicinity Photograph Collection – 64 items added to existing collection
James Regan – 9 items
Massachusetts Historical Society
 1 new collection – 4,161 new items re-harvested
Medford Historical Society & Museum
Medford Historical Society Civil War Photograph Collection – 826 items added to existing collection
Springfield College Archives and Special Collections
3 new collections – 5,181 new items re-harvested
Sterling and Francine Clark Art Institute Library
64 new items re-harvested