The Digital Commonwealth awarded three students free attendance to the annual conference this year.  All three have written blog posts about their experience.  We are happy to present the second of these reports today.
Our second report comes from Daniel Chivvis, a graduate student at the Simmons School of Library & Information Science.  His focus is on Information Technology.
A Glance at the 12th Annual Digital Commonwealth Conference
As a graduate student at the Simmons School of Library & Information Science, my main area of focus has been Information Technology. Consequently, I was thrilled to find out that the Digital Commonwealth Conference is held every year right here in Worcester, MA; a city that I not only reside and work in, but also love dearly. Upon arriving at the conference, I browsed through the network of vendors, met a plethora of new people, and collected a stack of business cards (of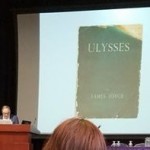 which I have yet to fully sort through). All the while, and this would be the first common theme of the day, I helped myself to as many cups of coffee as possible. Low quality jokes aside, out of all the sessions I attended, there was never a dull moment.  I was impressed by every speaker. It is quite evident that the folks at the Digital Commonwealth are not only a tight-knit group of passionate professionals, but they are also welcoming to those completely new to the industry.
Let me begin with a brief homage to Professor Joseph Nugent's Keynote Address: "Joycestick – Engaging Ulysses In a Virtual Reality Game." As a James Joyce fan and general advocate of virtual reality technology, I was pleased to learn how an eclectic group of students at Boston College had managed to create something so beautiful and entertaining. Now, that is not to say that the exclusive purpose of Joycestick is to entertain. Rather, it serves a more important role: to educate in a way that is accessible to a wider audience. Accessibility, as a common theme repeated throughout the day, was highlighted as an attribute of visual reality technologies by Professor Nugent on several occasions. I could not agree more; virtual reality offers a unique window into the world of literature (or any other content) that has, up until the present moment, been limited to a privileged group of people. I hope Joycestick and similar projects continue to enter our pedagogical discourse, for what this group of developers is accomplishing is truly inspiring.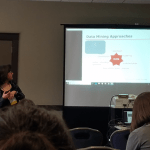 During the first breakout session, I attended Professor Carolina Ruiz's "Concepts in Data Mining." Here I learned the basics of data mining and how it can be used as a versatile tool by information professionals.   This session was perhaps the most impressive: Professor Ruiz articulated complex topics in a way that was accessible to those even completely unfamiliar with the topic. My only criticism is that the session ended earlier than it should have; Professor Ruiz had much more to say. I also found Eben English's Luncheon Keynote Address: "Digital Commonwealth Repository System Update: Year in Review & Future Directions" useful in many ways. As someone new to the Digital Commonwealth, the address summarized the organization's purpose and future aspirations. Looking at usage statistics—such as through Google Analytics—English presented invaluable data that was not only fascinating, but sometimes humorous. I look forward to hearing what he has to report next year.
Upon reflecting on the conference, I am reminded of its diverse group of speakers and friendly members. I have since been inspired to inquire about our own digital collections at the Worcester Public Library (where I play the role of both patron and employee). There is no doubt that I intend on remaining involved with the Digital Commonwealth.  I plan on attending all future conferences and keeping up with the latest news. The general consensus among the people I met was that the conference continues to improve every year. For this and other reasons, I cannot wait to see what is in store next year.