The Digital Commonwealth awarded three students free attendance to the annual conference this year.  All three have written blog posts about their experience.  We are happy to present the first of these reports today.
Ashley Miller is currently finishing up coursework in Simmons College's dual-degree History and Archives Management Master's program.  She has used the Digital Commonwealth for research on her own projects.
Outreach and Accessibility in the Digital World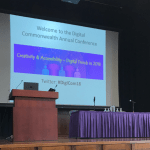 They are two of the most basic archival functions, yet the increasing content and ever-changing nature of the digital world is forcing information professionals to approach outreach and accessibility in new and unique ways. This year's Digital Commonwealth conference presented a number of examples of how librarians are adapting and utilizing digital platforms to perform outreach and make their collections more accessible.
With more and more libraries, museums, and archives creating active digital presences, the field is generating new ways of engaging with patrons. Social media is one of the most useful forms of outreach, but there are even more ways we can engage with patrons on the digital front. Increasingly, libraries are crowdsourcing their collections to allow patrons to provide information valuable for cataloging. This not only allows collections to become accessible at a much faster rate, but allows patrons to participate in a unique manner on their own time. Furthermore, there are a variety of apps, tools, and websites available to display digital exhibits such as HistoryPin, Story Map, Omeka, and Soundate. These allow our collections to be viewed in a new light, providing patrons with differing ways of exploring archival materials.
There are aggregate possibilities with digitization. As Professor Joseph Nugent demonstrated with "Joycestick," we can make difficult to understand concepts more accessible through digital means. Moreover, virtual reality is said to be an empathy machine, allowing users to have an on-demand experience that they otherwise would not have. If virtual reality can make accessible challenging texts like Ulysses, imagine the possibilities archival holdings can have. Public libraries have already begun to adopt virtual reality technology, providing access to their patrons.
Libraries must be adaptive and innovative. We cannot be content simply posting our collections on social media, but we should strive for digital accessibility across the board. Libraries have always adapted to changing technologies, and the Digital Commonwealth conference demonstrated the continued effort to do so.