Written by Patricia Feeley, Interlibrary Loan Librarian, Boston Public Library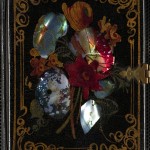 Historic Newton's Early Photograph Collection has something for everyone who loves photographs: daguerreotypes, ambrotypes, and tintypes, hand painted miniature portraits and cartes de visite.  You can see the fashionable cases of the day as well.  Many of Newton's historically prominent families are included.  The poses struck range from the straightforward, all business portrait of Charles Redding, an African-American sailor who served on the famous USS Kearsage during the Civil War, to the dandified Stephen Winchester Dana Jackson in his fur-trimmed coat – and with a name that reads like the genealogical profile of a Boston Brahmin.
Sara Leavitt Goldberg, Archivist and Curator of Manuscripts and Photographs for Historic Newton (HN), took up her position about seven and a half years ago.  Always interested in photographs, she did a concentration in archives at Simmons College.  She then interned and consulted at Mount Auburn Cemetery in Watertown.  Sara's predecessor at HN, Susan Abele, began the photo project 10 years ago.  With assistance from Ron Polito, co-author of Massachusetts photographers, 1839-1900, she created a comprehensive inventory of the photograph collection that Sara has found invaluable.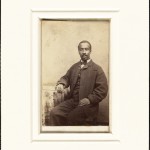 Inventory and collection in hand, Sara wanted to make it more broadly accessible while protecting her materials.  HN is a small, public/private collaborative and did not have the budget to digitize on its own.  Sara
went looking for a few good partners.
Digital Commonwealth (DC) had been on Sara's radar since Simmons.  Sara knew she wanted to talk to DC.  She also knew about Simmons College's internship program.  Here were two sources of free, professional help for her project.  Sara recommends both to small cultural institutions with limited budgets and big digitization dreams.
The photo inventory done by previous staff was an essential part of the process.  Kelsey Sawyer, the Simmons intern, handled all of the HN metadata based on the data in the inventory.  Sara is convinced the more prepared your institution is before you send your collection to digitization, the easier – and faster – it will go.  She characterizes her experience as "remarkably flawless."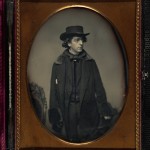 Sara contacted DC in January, DC visited in February, she dropped off the collection in April, the imaging was done in June and uploaded in August.  She got her collection back in September.  It "truly could not have been easier."
Sara sent HN staff a link to the collection and everyone was impressed.  She is eager to show the images off to her trustees and museum council.
Her advice to anyone still on the fence about digitization: Take the time to get your descriptions done and done right.  She gives full credit to HN staff for their work on the inventory and metadata.  Next, find yourself a few good partners.  She can recommend two.
In summary, Sara says it was "well worth the price of membership" to have DC digitize her collection.  HN owns some collections in partnership with the city, so Sara has some negotiating to do before she can send more collections.  But send more she will.