This post was written by Patricia Feeley, BPL Collaborative Services Librarian.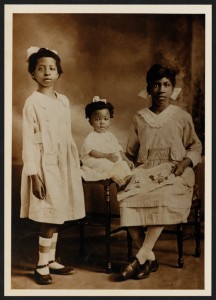 When the Grove Hall Branch of the Boston Public Library began planning the Grove Hall Memory Project, it was their intention to make it available in a digital format.  Katrina Morse, now the Parker Hill Branch librarian and the driving force behind the Memory Project, wanted "anyone…anywhere in the world" to be able to access the materials.
The Memory Project's goal was to provide audio/visual "snapshots" of the neighborhood through the years as reported by the people who lived there.  The collection includes letters, photographs, newspaper clippings and oral-history interviews with full transcriptions.   For Katrina, the interviews are the most interesting and valuable part of the collection.  You can listen to and/or read the transcripts of these interviews on Digital Commonwealth.
After the Memory Project collection was added to the Digital Commonwealth, Katrina reports that another branch librarian approached her about doing a similar project for her branch.  While Katrina says the project was incredibly time-consuming, she thinks it was worthwhile and is very pleased that Digital Commonwealth offers the collection a platform making it accessible to Grove Hall residents, former residents, and anyone interested in the history of a vital, ever-changing Boston  neighborhood "anywhere in the world."