This post was written by Patricia Feeley, BPL Collaborative Services Librarian from an interview she conducted with Louise Sandberg of the Lawrence Public Library.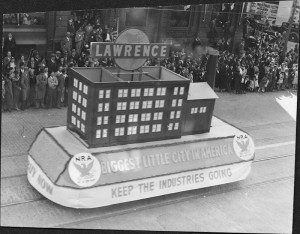 Louise Sandberg of the Lawrence Public Library began working with archival materials the "minute I was hired," so she recognized a great opportunity to expand the reach of her collection after attending a Digital Commonwealth presentation in Wakefield.  The library currently has 17 collections uploaded to the Digital Commonwealth website.
Among them, the Lawrence Public Library Collection includes over 700 photographs that were used as part of a Northeast Massachusetts Regional Library System digitization project.  The photos range from historical street scenes to Spanish-American War soldiers to parades honoring God and country, Independence Day and the National Recovery Administration!   In retrospect, Louise recommends breaking down collections of this size and diversity into smaller collections.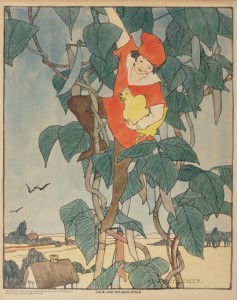 Most delightful of all the collections is the National Child Welfare Association Fairy Tale Pictures posters from the Home and School Series.  These wonderful watercolors were created by illustrator Elizabeth Tyler, who was born in Newton, Massachusetts.  The Lawrence Public Library has 11 of the 12 originally issued in the 1920's.  Only Chicken Little is missing and, with Red Riding Hood, Cinderella and Jack of beanstalk fame present, you don't really miss her.
Louise Sandberg reports that she loves the final result: the images are sharp and the website presentation attractive.  She has 30 collections she's hoping to add, including 19th century images of a cyclone that blew through Lawrence.  Scanning, she notes, allows the eye to see more, picking up on objects that fade into the background at first glance on the original.  And when the Digital Services team is ready, she has some large-scale, hand-drawn street plans and maps that she is eager to see online.  The process of putting collections on Digital Commonwealth has also made Louise think about what she can do and what she should do with the time she has.
Best of all, Louise is so pleased with the Digital Commonwealth; she has recommended us to other community organizations.  As she says, uploading collections, "only helps all of us" by making our materials available and accessible to a much wider audience than we can ever serve in person.