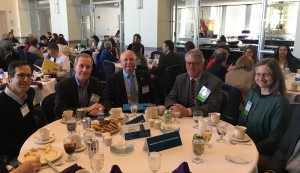 On April 5 the Digital Commonwealth held its 10th annual conference and 10th anniversary celebration at the Hogan Center at the College of Holy Cross in Worcester MA.  It was the largest conference in years and afterwards over 90 people joined us to commemorate the anniversary.
Thanks to the hard work of the conference committee and our excellent speakers and sessions, we had nearly 200 people at this year's conference — the best attended conference in recent years. Many presenters' slides and presentations can be found on the Digital Commonwealth conference web site.  You can also download our final conference program to learn more about the speakers at this year's event.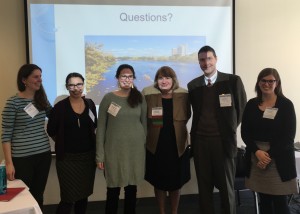 The anniversary reception gave us all the opportunity to acknowledge and celebrate the creation and growth of Digital Commonwealth.  Digital Commonwealth President Elizabeth Thompson shared remarks prepared by Greg Pronevitz of the Massachusetts Library System, a key player in the formation of Digital Commonwealth. Carolyn Noah, Gregor Trinkaus-Randall, and Bill Talentino shared memories of the growth of Digital Commonwealth.  David Leonard, Director of Administration and Technology at Boston Public Library and Dan Cohen, President of the Digital Public Library of America, gave their perspective of Digital Commonwealth as partners on a common journey.

It was a great opportunity to gather together, reflect on what we have accomplished and set our sights on the future of the Digital Commonwealth and our partners.  We thank you all our members and all those who attended the conference this year. If you attended the conference, and have not yet done so, please share your feedback by completing the online evaluation form.
We hope to see you all at the 2017 Digital Commonwealth Annual Conference!