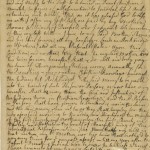 This post was written by Patricia Feeley, BPL Collaborative Services Librarian.
Jessika Drmacich was hired for the newly-created Records Manager & Digital Resources Archivist position at Williams College five years ago.  Jessika's career has included stops at Rolling Stone magazine in New York City and the Norman Rockwell Museum in Stockbridge before landing in Williamstown.
Asking Jessika to pick a favorite digital collection is rather like asking a parent to choose a favorite child.  Each is special in its own way and she doesn't like to single one out.  However, pressed to name collections that deserve more of a spotlight, and Jessika will name names:
The Ephraim Williams Project: Williams College has papers related to its first benefactor, Ephraim Williams, Jr., in various collections in the Williams College Library archives.  Digitizing these papers allowed Jessika to create a virtual Ephraim Williams collection that allows students and scholars to view the papers in a single collection.
The Davis Center Posters Collection: This collection of posters showcases the inclusivity and diversity of Williams College.  It shows the LGBTQ community that they are welcomed and even celebrated at Williams.  Jessika believes this message of inclusivity is an important one for the college community.
Reily Scrapbook: Jessika knows the poignant story behind this item appeals to everyone.  The scrapbook is leather-bound, containing photographs, newspaper clippings, ribbons, certificates, and ephemera primarily regarding Michael Reily's activities in track and field, football, and wrestling from high school through college (Williams College Class of 1964).  Michael died in July 1964 due to Hodgkins lymphoma, just a few months after graduating.  According to his obituary, he had spent most of his last semester in the college infirmary.  His "fondest wish" was to graduate with his class.  The scrapbook was compiled by his mother after Michael's death and donated to the college by his brother.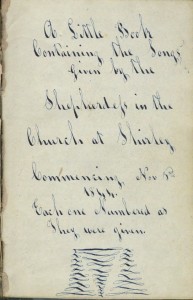 Shaker Song Books: These song books are part of the College Archives Shaker Collection.  The larger collection benefited from a donation from Edward Wight (Class of 1907), who collected Shaker-related works in Troy, NY, close to the original settlement of the United Society of Believers in Christ's Second Appearing (Shakers).  These wonderful song books from various Shaker communities include handwritten lyrics and musical notations.  It is unlikely any of these tunes were ever reviewed by Jessika's previous employer, Rolling Stone.
Jessika's next planned project is digitizing Williams College yearbooks and the student newspaper, The Record.
It is obvious that Williams College has a strong commitment to and history of digitization.  The college began digitizing collections in the 1990s.  Williams started a records management program in 2012 and the Trustees passed a college-wide records management policy in 2016.  Jessika can count on students and library staff to assist in digitization using the college's camera, book and flatbed scanners.
With all that institutional support, why did she turn to Digital Commonwealth?  Jessika believes "access is as important as preservation".  To reach a wider audience than the college website provided, Jessika knew she wanted Digital Commonwealth to harvest her digital collections, which she knew meant the Digital Public Library of America would harvest them, as well.  This gives the Williams collections at least a national audience.
Jessika found working with Digital Commonwealth staff was very easy.  She believes meeting the metadata standard was the key to a quick and successful harvest.  From first contact to full upload only took five months. She also believes "everyone should know MODS and Dublin core": library staff, students, volunteers, etc.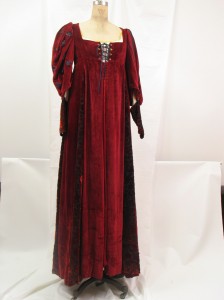 But there are always glitches.  The wonderful Costume Archives collection was an early digitization effort that, unfortunately, did not meet today's standard for metadata.  Jessika and her crew had to find the original images, assign accession numbers and then re-do the metadata. When she had questions, she found the Digital Commonwealth staff very helpful.
Jessika recommends that public libraries beginning a digitization program consult an archivist with metadata experience as a first step.  Happily for Massachusetts public libraries (or any Massachusetts cultural institution), they can call on the Boston Public Library's archivist and metadata crew for free advice and assistance on their digitization programs. The BPL staff digitizes and harvests collections for Digital Commonwealth.
Jessika is constantly adding to the Williams College digital collections.  She looks forward to learning the Digital Commonwealth harvesting schedule so even more of her collections become accessible to an ever larger audience as quickly as possible.