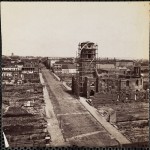 As we pack away the ghosts and goblins of Halloween and prepare for Thanksgiving, let us give thanks:
…to the Annisquam Historical Society for sharing a lovely sketch of the I Am Here schooner amongst its 86 historical documents.
…to the Boston Public Library – and especially to the Leventhal Map Center – for continuing to add too many wonderful items to mention individually.
…to the Medford Historical Society & Museum for adding a superb collection of Civil War photographs, ranging from cartes de visites to battle scenes to fortifications to the haunting photo of a devastated Charleston, S.C. (Left)
…to the Sharon Public Library for a wonderful variety of photos, including photos taken after the Blizzard of '78. "Foot of my driveway" is exactly the kind of titles I give my photos, but the Cobb's Corner photos give a better idea of the scale. (Below)
Take a look and let us know what you're thankful for.
Annisquam Historical Society
Annisquam Historical Society's Collection of Historical Documents – 86 items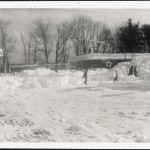 Boston Public Library
Early English Printers – 1 item
Incunabula (Collection of Distinction) – 1 item added to an existing collection
Medieval and Early Renaissance Manuscripts (Collection of Distinction) – 18 items added to an existing collection
Norman B. Leventhal Map Center Collection – 728 items added to an existing collection
Medford Historical Society & Museum
The Medford Historical Society Civil War Photograph Collection – 742 items
Sharon Public Library
Sharon Public Library Photo Collection – 155 items