This month we welcome AgitArte, an organization of working class artists and cultural organizers, who added the scroll, one of their community art projects, at left.  Almost unbelievably, the Medford Historical Society & Museum has added several hundred more Civil War photos and the Chicopee Public Library has allowed the harvest of two more collections.
As last month, I want to highlight one of Digital Commonwealth's mainstays, the Boston Public Library.  The Press Photography from the Brearley Collection has grown exponentially.  The 1,222 items added this month nearly double the size of the collection.  The BPL also added a new collection of 394 items, the Edmund Blampied (1886-1966) Prints and Drawings collection, which includes the exquisite crayon drawing, Beach Scene (10) below.
Agitating for the community or a virtual beach visit may warm you up this December.  Happy holidays to all!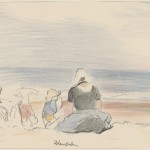 AgitArte
Collaborations – 1 item
Boston Public Library
Edmund Blampied (1886-1966). Prints and Drawings – 394 items
Press Photography from the Brearley Collection – 1,222 items added to an existing collection
Chicopee Public Library
2 new collections, 710 new items harvested
The Medford Historical Society & Museum
The Medford Historical Society Civil War Photograph Collection – 851 items added to an existing collection