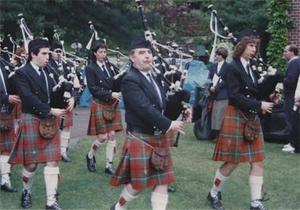 In February, the Boston Public Library was in an artistic frame of mind, adding to the American Artists collection as well as adding two new collections: Frank W. Benson (1862-1951) Prints and Drawings and Joseph Pennell (1857-1926) Prints and Drawings.
If you're not in an artistic mood, the Harvard Forest Archives has added hundreds of maps.  Holyoke Community College has uploaded the Frank N. Fowler Postcard Collection.  The largest addition this month was the harvest of 1,230 items from Wheaton College's Marion B. Gebbie Archives Image Collection, including the bagpipers at left.
Parade season is right around the corner.  Time to get your kilts from the dry cleaners.

Boston Public Library
American Artists – 23 items added to existing collection
Frank W. Benson (1862-1951). Prints and Drawings – 677 items
Joseph Pennell (1857-1926). Prints and Drawings – 529 items
Harvard Forest Archives
The Harvard Forest Map Collection – 648 items
Holyoke Community College
Frank N. Fowler Postcard Collection – 24 items
Wheaton College
Marion B. Gebbie Archives Image Collection – 1,230 items harvested