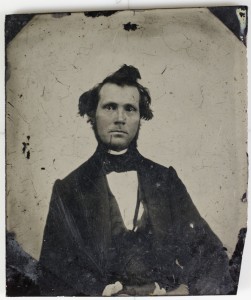 March came in like a lion and then refused to leave like a lamb.  Can we get a refund from Mother Nature?  Perhaps a few extra days of fall?  Digital Commonwealth never sleeps, though; witness the many additions to the collections last month.
My personal favorite proves that bad hair days are not a 21st century phenomenon.  This unidentified gentleman (left) comes from the Granville Public Library's Unidentified People and Places collection.  I am sure he is happy to be unidentified.  Wouldn't you be, with this look?
The remaining collections are from some old reliable contributors and some new ones.  Kudos to the newbies who added large collections and the vets who added to existing collections.  I personally know some folks who will be delighted that the Medford Historical Society is adding to its Civil War photo collection.
I admit my taste runs more to the Art Nouveau cover for Beverly's Balance (see below), a play given by the Waban Women's Club on May 4th 1917.  Which only goes to show that Digital Commonwealth always strives to provide something for everyone.
I hope to see you at the Annual Conference tomorrow in Worcester – another instance of Digital Commonwealth providing something for everyone!
Boston Public Library
Norman B. Leventhal Map Center Collection – 6 items added to existing collection
Granville Public Library
Barlow Album – 110 items
Churches – 6 items
Countryside and Scenes – 47 items
Houses and Other Structures – 29 items
Noble & Cooley – 6 items
People, Portraits and Groups (Identified) – 68 items
Schools and Class Photos – 30 items
Unidentified People and Places – 28 items
Historical Society of Old Yarmouth
Historical Society of Old Yarmouth Archives & Local History Collection – 1,157 items
Jamaica Plain Historical Society
Jamaica Plain Historical Society Photo Gallery – 3 items added to existing collection
Medford Historical Society & Museum
Medford Historical Society Civil War Photograph Collection – 906 items added to existing collection
Needham Free Public Library
Needham Historical House Collection – 2,989 items added to existing collection
Newton Free Library
Frank A. Day Junior High School Class of 1954 – 1 item
Mayor Howard Whitmore, Jr. collection 1929-2008 – 1 item
Meadowbrook Junior High School Class of 1963 – 1 item
Newton Free Library Branches, Auburndale, Newton Centre, Newton Corner, Newton Highlands, 1930-1959 – 24 items
Waban Historical Collection – 470 items
University of Massachusetts Amherst Libraries Special Collections and University Archives
32 new collections – 6,771 new items re-harvested
Wayland Historical Society
Wayland Historical Society Collection – 23 items