Written by Patricia Feeley, Interlibrary Loan Librarian, Boston Public Library
The National Archives at Boston (NARA-Boston) recently added a fascinating collection of Civil Defense photographs.  The Federal Civil Defense Administration (FCDA) had the two-fold job of preparing Americans for natural disasters and military attacks.  Its heyday was in the Cold War years of the 1950's.  It may be best known these days for its (in)famous Duck and Cover animated film.  However, the agency also assisted with natural disaster preparation.  One of the nationwide exercises it ran was emergency mass feeding courses, which were useful for either agency responsibility.  In an emergency, one might not have access to a full kitchen, so citizens were taught how to improvise utensils and how to cook without access to a kitchen.
Another exercise was Operation Alert.  Instituted in 1954, these exercises were designed to test how well the nation responded to a virtual nuclear attack.  The day after an exercise, newspapers published reports of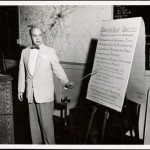 these virtual attacks.  They would even detail the number of virtual cities hit, the number of virtual bombs that were dropped, and the number of virtual casualties.  Pacifists in New York protested what they saw as the absurdity of preparing to survive a nuclear attack.  Soon a group of young mothers joined the protest.  The protests grew to include students and spread nationwide.  Operation Alert was permanently cancelled in 1962.
You may notice browsing the collection, as I did, that women are prominently featured in the Civil Defense photographs. This is not by accident.   The FCDA created a massive recruitment campaign targeting women.  While women were mainly directed toward care-giving roles, you can see in the poster for Women's Activities and Conferences that women also were expected to train to take up arms in defense of the country.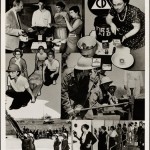 Alfie Paul, Director of Archival Operations at NARA-Boston, has been with the National Archives for 10 years and in his current position as director of the Boston field unit since February of 2015.
One of NARA's main strategic goals nationally is digitization.  So when Alfie assumed his position in Boston, he wanted to make digitization a priority in Boston, too.  Like many of Digital Commonwealth's members, he was hampered by a lack of resources to do it on his own.  He recognized that using the services of Digital Commonwealth was a great solution for his organization – and for the people of Massachusetts, who he suspected were not aware of all that NARA-Boston offers.  Or even that NARA has a presence in the state.  However, no other NARA unit had worked out a similar partnership.
Alfie wanted to get all his facts straight before taking his proposal to headquarters.  Digital Commonwealth welcomed Alfie and one of his archivists to visit the facilities and answered all his questions so he could speak knowledgeably to his superiors.  In fact, Alfie did so much research and investigation that after his project was approved, nothing that occurred during the process of the project surprised him.  The "only real challenge" was making sure the metadata was compliant with the way NARA catalogs its records.  I know metadata compliance is a challenge shared by many of DC's members – here's proof it can be overcome.
In all, Alfie estimates it took two months from start to finish to digitize his materials.  He is eager to add more.  Boston historians will be thrilled if his "dream" of digitizing the Morgan v. Hennigan case file (Boston busing) – all 50 cubic feet of it – comes true.  Alfie will keep sending records as long as DC "keep[s] doing what they do.  It's a fantastic resource."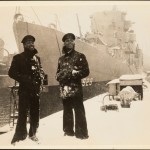 NARA-Boston has two collections on DC currently.  Alfie is partial to the Photographs of the First Naval District collection.  One of his favorites is of two sailors from the USS Mason, the first predominately African-American ship in the U.S. Navy.  He's already featured it on the NARA-Boston website.
Next up will be photos of the Watertown Arsenal.  Stayed tuned.
The "best feedback" Alfie could get on his digitization projects is also the best feedback for DC: The Archivist of the United States "loves it".